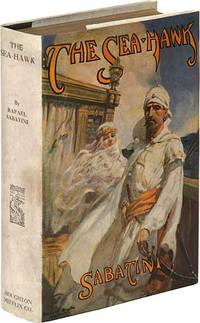 The Sea-Hawk by Rafael Sabatini.
A bestseller in 1923.
Who were the towering figures of twentieth century American literature? Well, that depends. If number of copies sold is the measurement then Fitzgerald, Hemingway, and Faulkner should step aside. Welcome in Gene Stratton Porter, Harold Bell Wright, Lloyd C. Douglas, and a host of other novelists whose names are only vaguely familiar nowadays if recognized at all.
Does anyone read the work of these authors today?
Linda Aragoni
does. Since 2007, Aragoni has been reviewing long ago bestsellers for her blog
Great Penformances
. Aragoni addresses only books written after 1900 but none less than fifty years old. She crafts her pithy reviews in terms of how the story would appeal to today's readers.
"In some ways, reading older fiction is like reading history only it's history on the personal level," Aragoni explained to
The Committee Room
. "Vintage fiction takes us back to another time, gives us not only facts about what happened and how people lived, but what mattered to them and why it mattered."
An editor, writer, and writing instructor based in Upstate New York, Aragoni reviewed older novels for a local weekly newspaper. "I just picked up whatever was handy at the library and that was the book I reviewed," Aragoni told
TCR
. After starting Great Penformances she began to read more systematically.