Meara plays a big part in husband Jerry
Stiller's autobiography.
In recent months, American television lost two of its most familiar faces: Dick Van Patten and Anne Meara. The careers of these hard-working performers began in television's earliest years. Their passing takes us farther away from the days of huge audience broadcast TV, when even flop shows (and both Van Patten and Meara had their share of failures) drew more viewers than the biggest hits of today.
Van Patten, who died on June 23 at age 86, is best remembered as the father on
Eight is Enough
, a comedy-drama that ran on ABC from 1977 to 1981. However, those four years were just a short chapter in a remarkably busy career in theater, television, and film that spanned more than seven decades.
Meara, who died on May 23 at age 85, rose to fame in the early 1960s as partner to her husband Jerry Stiller in the comedy team Stiller and Meara. However, she always considered herself an actress, not a comedienne. Meara made numerous appearances in both comedic and dramatic acting roles mainly on television but also on film and stage from the early 1950s onward.
In his breezy autobiography,
Eighty is Not Enough: One Actor's Journey Through American Entertainment
(2009), the upbeat Van Patten shares happy memories of being one of Broadway's top juvenile actors of the 1930s and 1940s. Billed as Dickie Van Patten and sporting a great shock of blond hair, Van Patten made his Broadway debut at age seven in a play called
Tapestry in Grey
. While still a boy Van Patten appeared the original productions of the classics
On Borrowed Time
by Paul Osborn and Thornton Wilder's
The Skin of Our Teeth.
As a teenager Van Patten spent three years on Broadway and on tour with the legendary acting couple Alfred Lunt and Lynn Fontanne in Terence Rattigan's
O Mistress Mine
and became one of the many young actors over the years, including Montgomery Clift, who the Lunts took under their wing.
"I enjoyed my life as a child actor," Van Patten writes in
Eighty is Not Enough
, adding that his employment provided his family with a comfortable existence while others were suffering through the Depression and gave him the opportunity to work with legendary stars of the era. He points out that while many child actors, including some of those who played his children on
Eight is Enough
, fall prey to drug addiction and other misfortunes, such problems are also widespread among people with supposedly normal childhoods.
Dick Van Patten (r.) with Alfred Lunt and Lynn
Fontanne, c. 1946.
In 1949, Van Patten got in on the ground floor of television by taking the part of son Nels in
Mama
, one of the first situation comedies on American television.
Mama
was based on the long-running Broadway play
I Remember Mama
by John Van Druten. The part of Nels was originated on the stage in 1944 by a very young Marlon Brando who, for a few years, was in competition with Van Patten for juvenile roles in the New York theater. Produced in New York by CBS,
Mama
ran until 1957. In all but its final season it was broadcast live, hence, the series had no life in reruns and is not well remembered today.
In the late 1960s, after some post-
Mama
lean years during which he sold real estate in his native Queens when acting jobs were scarce, Van Patten relocated to Los Angeles. By now middle aged and balding, he quickly became an ubiquitous presence on the small screen, making appearances in everyman-style roles on almost any show one may think of from the period (
I Dream of Jeannie
,
That Girl
,
Medical Center
,
Adam-12
,
The Doris Day Show
, to name just a few) and some one may not be able to think of (
Sierra
,
Thicker Than Water
,
Chopper One
). He was a regular cast member on a revised version of the flailing
New Dick Van Dyke Show
in 1973-74.
Van Patten (left) with cast of the legendary flop
When Things Were Rotten, 1975.
Van Patten played Friar Tuck on
When Things Were Rotten
, Mel Brooks' off the wall Robin Hood parody that lasted for half a season in 1975. "You have a round, fat man's face," Brooks told the slender Van Patten who was an avid tennis player. Brooks and Van Patten were close friends in real life. Van Patten also appeared in Brooks' movies
High Anxiety
(1977)
Spaceballs
(1987), and
Robin Hood: Men in Tights
(1993).
Van Patten with cast of Eight is Enough, c. 1979
Van Patten finally advanced to stardom with
Eight is Enough
, an ABC comedy-drama about a middle class, suburban California family -- the Bradfords -- led by Van Patten as wise dad Tom Bradford. The show was basically a contemporary version of
The Waltons
, the series about a rural, Depression-era, large family that was a major hit on CBS at this time. Though the shows were on different networks both were produced by Lorimar.
Eight is Enough
began as a mid-season replacement in the spring of 1977 and quickly became one of the most popular shows on television.
In
Eighty is Not Enough
Van Patten writes that he was almost replaced as Tom Bradford early in the show's development because the producers wanted a fresh face "and that wasn't me." ABC chief Fred Silverman stepped in on Van Patten's behalf, saying Van Patten was a naturally funny performer who would keep the show from going too far to the serious side.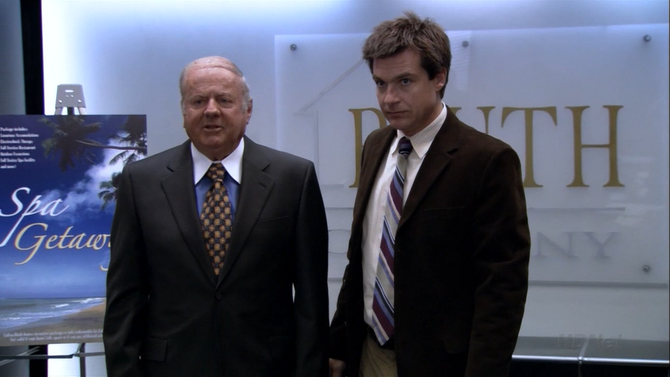 Van Patten with Jason Bateman on
Arrested Development, 2005.
In the spring of 1981,
Eight is Enough
was abruptly cancelled by ABC as part of a house cleaning at the network.
Soap
and
Charlie's Angels
, two other once mighty ABC shows with declining ratings, were also canceled at this time. Van Patten went back to being a journeyman, though now as a guest star instead of a familiar but nameless character actor. Among the many shows he appeared on later in his career are
Murder She Wrote
,
That 70s Show
, and
Arrested Development.
The Internet Movie Database (IMDb) lists an as his final acting credit an appearance on the TV Land sitcom
Hot in Cleveland
in 2011, a spectacular seventy-five years after his first acting role.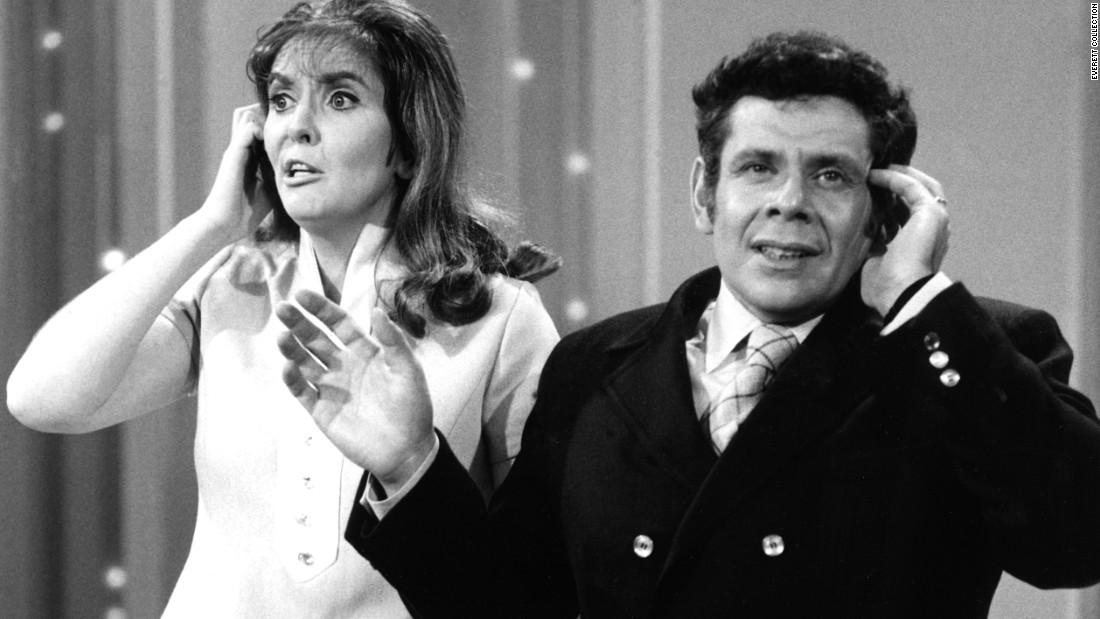 Meara onstage with Stiller, c. 1969.
Anne Meara never wrote an autobiography or memoir but she looms large in Jerry Stiller's autobiography
Married to Laughter
(2000). Stiller tells readers that he was had a lot of therapy over the years. This perhaps explains the book's unexpectedly serious and pensive tone. Stiller credits Meara with being a more technically polished and disciplined performer than he is himself.
"'How can you do a scene ten times in a row the same way while I do it differently each time?" Stiller quotes himself asking Meara in
Married to Laughter
.
Meara in the 1950s. Her son Ben Stiller posted
this photo on Instagram after she died.
As a young actress in New York in the 1950s, Meara found steady employment if not celebrity in secondary roles in stage and television productions. She appeared in
A Month in the Country
directed by Michael Redgrave, acted for Joseph Papp's fledgling Shakespeare in the Park, and won an Obie award for the prison drama
Maedchen in Uniform.
Among her earliest television roles was a regular part on a daytime soap opera called
The Greatest Gift
in 1954.
Meara wed Stiller, another struggling young New York actor, in 1953. Stiller had a bent toward variety entertainment (his idol was Eddie Cantor) and worked with an improvisational comedy group. In 1959, when the other members of the group moved on, Meara stepped in. She had no experience with or genuine interest in this type of performing but she proved to excel at it. "Her love was theater, the stage," Stiller writes rather wistfully of Meara in
Married to Laughter
. "Somehow I'd schlepped this beautiful young acting wunderkind into by dream world, and she'd married me into the bargain. She was living my dream."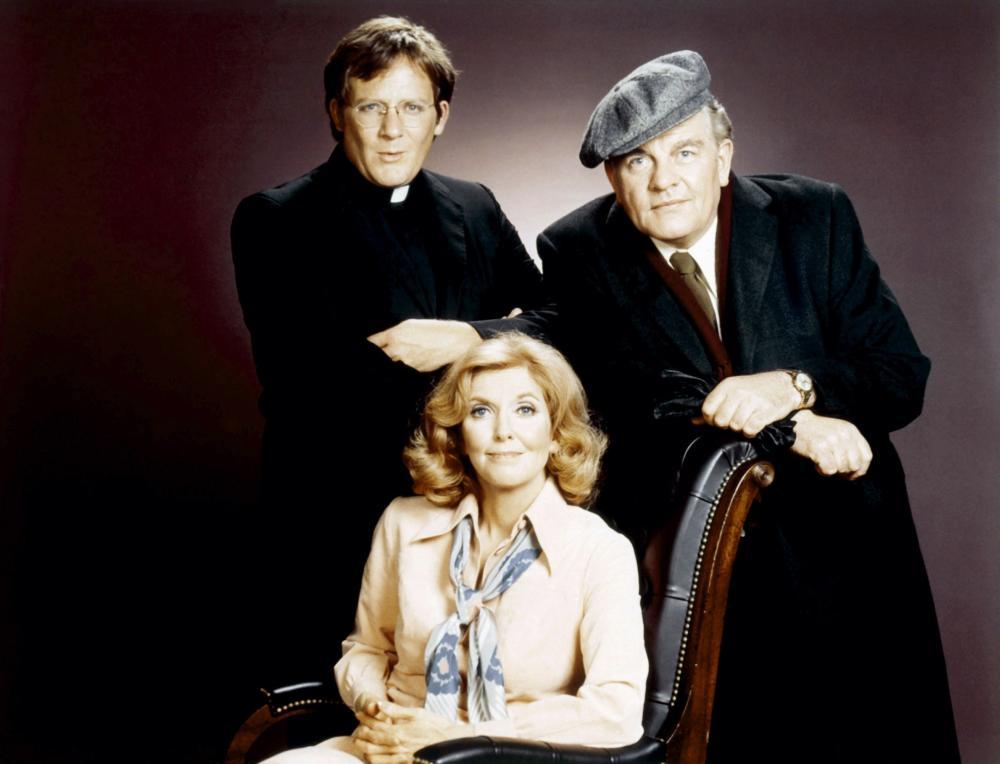 Meara in her failed starring vehicle Kate McShane,
with co-stars Charles Haid (left) and Sean McClory, 1975.
After successful stints in nightclubs, an environment which Meara disliked, Stiller and Meara made their nationwide television debut as a comedy team on Merv Griffin's syndicated talk show in 1961. On TV they dropped improvisation and did set comedy routines, most notably material based on Catholic-Jewish inter-religious romance. Stiller was Jewish and Meara, who was of Irish ancestry, was brought up as a Catholic. Though Meara generously drew upon her Irish Catholic background as a performer, Stiller writes in
Married to Laughter
that in private life Meara rarely talked about her upbringing. She converted to Reform Judaism several years after her marriage.
Meara with Valerie Harper in Rhoda, c. 1976.
Throughout the 1960s and 70s Stiller and Meara were a staple on talk and variety shows (they were a particular favorite of Ed Sullivan on whose show they appeared dozens of times) and were frequent celebrity contestants on game shows. They also wrote and performed in witty radio commercials, most memorably for Blue Nun wine, that were so successful the J. Walter Thompson advertising agency provided them with a Manhattan office in order to keep the ad campaigns coming.
Some obituaries listed as Meara's chief claim to fame being the mother of actor/director Ben Stiller. However, to anyone who watched television in the 1960s and 1970s, Ben Stiller is, more than anything else, the son of Stiller and Meara.
Meara on Alf, c. 1987.
Apart from her comedy team work with Stiller, Meara somehow managed to maintain a separate identity as an actress though it was not the heavyweight career to which had originally aspired. In
Married to Laughter
Stiller recalls Meara, in 1987, participating in a staged reading of James Joyce's
Ulysses
along with noted Irish and Irish-American actors and cultural figures. "Anne might have been part of that crowd but she took another route," Stiller says. As an example of that other route, at the time of the Joyce reading, Meara had a recurring role on the television comedy
Alf
, about a lovable E.T.-like creature residing with a normal American family.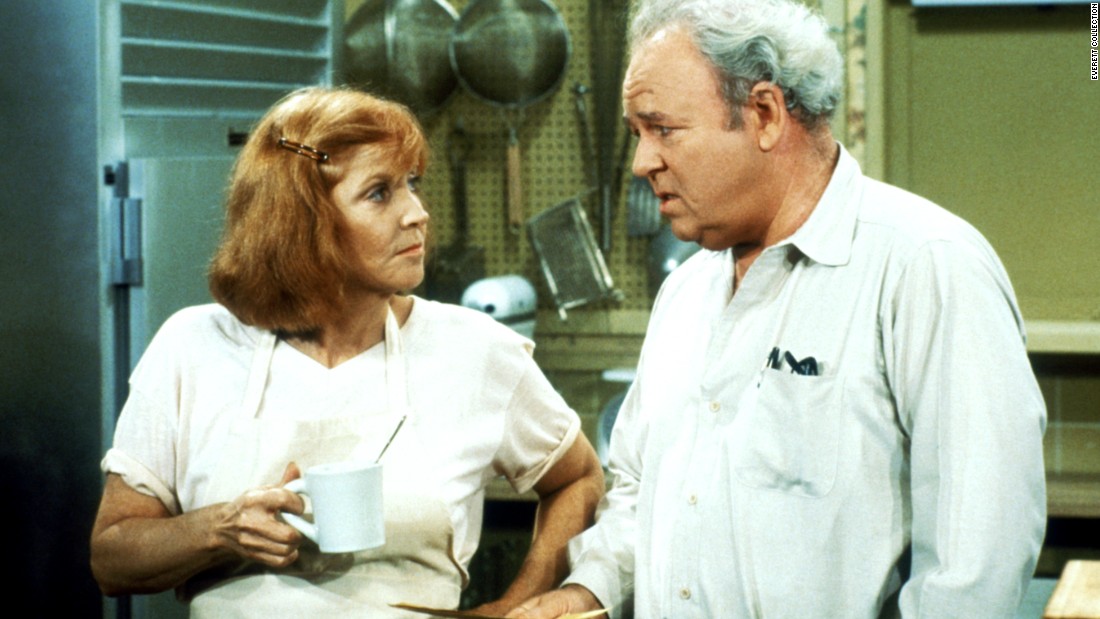 With Carroll O'Connor on Archie Bunker's Place, c. 1980.
Meara made countless guest appearances on episodic television on shows such as
The Courtship of Eddie's Father
,
Love American Style
, and
Medical Center
. Her only starring vehicle,
Kate McShane
, a drama which presented her as a crusading lawyer, lasted only a few weeks in the fall of 1975. After its demise, Meara picked herself up, brushed herself off and joined the cast of
Rhoda
in a recurring role as Rhoda's stewardess friend Sally Gallagher.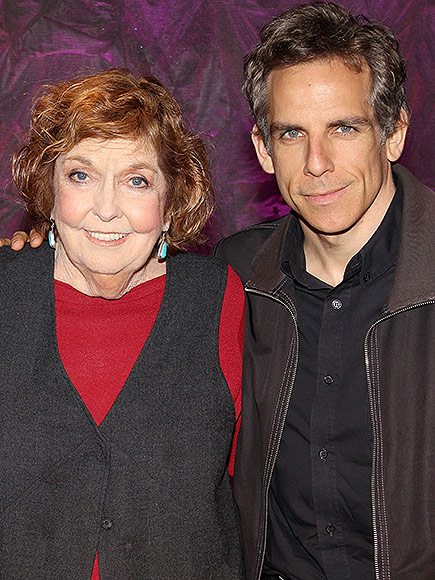 Meara with famous son, Ben Stiller, c 2010.
(Photo/Bruce Gilkas/Filmmagic)
From 1979 to 1982, Meara was a regular cast member on
Archie Bunker's Place
, a popular but unnecessary continuation of
All in the Family.
Meara and
Archie Bunker
star Carroll O'Connor had been friends since they acted together in a celebrated Off-Broadway production of
Ulysses in Nighttown
in 1958. Meara did a stint on the daytime soap opera
All My Children
in the 1990s. She also made guest appearances on many shows including
Murphy Brown
,
Will and Grace
,
Homicide Life on the Street
and
Sex in the City
.
According to IMDb, Meara's last professional credit was the voice of the character Winnie in the animated Disney film
Planes: Fire and Rescue
in 2014. Her final episodic television credit was a guest shot on
Law and Order Special Victims Unit
in 2012. According to Broadway World.com her final theater credit was a stint in the rotating celebrity cast of Nora Ephron's Off-Broadway hit comedy
Love, Loss, and What I Wore
in 2009.
Van Patten with sort of famous son, actor and
tennis pro Vincent Van Patten, 2007
(Photo/WireImage.com)
Van Patten and Meara, who were only a few months apart in age, traveled the same roads throughout their long careers. It is surprising then that a 1983 episode of
The Love Boat
is the only instance
The Committee Room
could find of their professional paths crossing. Even in this case, they were in different storylines of the episode so they likely didn't actually work together.
Both Van Patten and Meara gave lengthy filmed interviews to the
Archive of American Television's Legends of TV
series. In his interview, which was filmed in 2011, octogenarian Van Patten shows the same cheerful attitude he displays in his autobiography. To question after question he smilingly responds along the lines of "oh, it was wonderful" and "I had a great time." His happy countenance does momentarily turn quizzical when he draws a blank when asked (for some reason) to recall his appearance on the short-lived 1970s series
Kolchak, the Night Stalker
.
Meara's interview was filmed in 2005. Perhaps because she did not have the kind of acting career she really wanted or perhaps because it was husband Jerry and not her who got to be part of the cultural phenomenon
Seinfeld
or maybe because she was just having a bad day back in 2005, Meara is cranky in the interview. She takes the interviewer to task for mispronouncing the name of fellow ubiquitous character actor Martin Balsam. She still seems genuinely angry, many decades later, at
Medical Center
's pretty-boy star Chad Everett for not bothering to show up on the day she was scheduled to film her big dramatic scene with him, forcing her to act opposite a piece of tape stuck to a pole. She lightens up when recalling her work with the highly professional Laurence Olivier on the movie
The Boys from Brazil
. Olivier told Meara that he was a great admirer of her work. "He didn't know who the hell I was," Meara says to the interviewer. "But such a gent."