Superagent Sue Mengers. Do any other three words better conjure up the enormous energy, creativity and free-wheeling social life of Hollywood in the 1970s?
Mengers is the subject of an excellent new biography
Can I Go Now? The Life of Hollywood's First Superagent
by
Brian Kellow
. The title of the book comes from Mengers' passive-aggressive way of ending phone conversations.
Kellow's previous work includes books on Broadway legend Ethel Merman (
Ethel Merman: A Life
, 2007) and film critic Pauline Kael (
Pauline Kael: A Life in the Dark
, 2011). He was also on the staff of
Opera News
for many years.
The idea of writing a biography of Mengers came to Kellow from his own (literary) agent. At first Kellow was skeptical, thinking that there wasn't enough substance in the life of Sue Mengers to warrant a biography. "My last book had been a biography of Pauline Kael, and I was very keen to follow it up with another biography of a writer," Kellow told
The Committee Room
. "To write a book about an agent seemed like a questionable project, especially after having written about someone as complex and brilliant as Pauline. But I was wrong: Sue was complex and brilliant in her own right, and once I began the research, I knew that this was a great topic. It was also a wonderful opportunity to write about the films and stars and filmmakers of the late '60s, the '70s and early '80s--still, to my mind, the most stimulating era in American movie-making."
Sue Mengers with Jack Nicholson, 1977.
Photo/Getty Images
Even by Hollywood standards Mengers had an outsized personality. As a young woman in New York in the early 1960s, she earned her stripes as an agent by booking B list clients in theater and television gigs. A zaftig, blue-eyed blonde and highly ambitious, Mengers was willing to do whatever it took -- incessant phone calls, sleeping with a producer -- to get a client a part or to land a new client.
In her Hollywood prime, the middle aged Mengers worked and partied non-stop in a haze of tobacco and pot smoke, and offered blunt, profanity-laced career advice to those she considered worthy enough to be her clients. Kellow told
TCR
-- "[Mengers] wielded enormous power. So many stars wanted to be represented by her, and a lot of studio heads and producers hated and feared her, with good reason...She also had a very keen gut-level understanding of the New Hollywood--of the change in material, the move toward more provocative and unusual topics. She knew that there was an audience for that sort of thing. And it was a great audience, while it lasted."
Sue Mengers with Christopher Walken, 1989.
Photo/Ron Galella/Wire Image/Getty Images
Mengers wasn't interested in discovering and developing young unknowns. Her forte was making very big movie stars out of performers already possessing some measure of fame on television or on Broadway or in supporting film roles. Gene Hackman is a prime example. He was a character actor approaching middle age when Mengers took him on. "Sue was relentless in getting Gene Hackman the role of Popeye Doyle in
The French Connection
when no one else wanted him. She was
relentless
...that movie was the one that really put him over the top, and I don't think she felt he was ever properly appreciative of her efforts," says Kellow.
British star Michael Caine, under the guidance of Mengers, joined the ranks of Hollywood's big time leading men. "In the case of Michael Caine, the game was to put him on a level with some of the top American actors," Kellow told
TCR
. "She also wanted to show audiences his versatility; she encouraged him to play gay men in
California Suite
and
Deathtrap
at a time when a lot of movie actors wouldn't have gone near [such roles]."
Mengers with Barbra Streisand, c. 1980.
Photo/Los Angeles Examiner
Other performers benefiting from the Mengers magic include Barbra Streisand, Ryan O'Neal, Faye Dunaway, Dyan Cannon, Candice Bergen, Elliott Gould, and Ali MacGraw, along with directors Peter Bogdanovich and William Friedkin. In other words, a
Who's Who
of 1970s Hollywood.
Kellow says that Mengers' greatest strength was her honesty. "She could tell her clients the truth, even when they might not want to hear it. In Hollywood, that's a rare gift," Kellow told
TCR
. "She was also brutally tough: she delighted in holding studio heads over a barrel. The story of how she got Gene Hackman $1 million for that awful movie
Lucky Lady
is hilariously funny. She knew the studio was in a bind and she made them pay."
For most of her career Mengers was employed by Creative Management Associates (CMA), founded in the early 1960s by Freddie Fields and David Begelman. Though Fields and Begelman were Mengers' bosses, the pair are barely mentioned in
Can I Go Now?
This is in stark contrast to
Judy + Liza + Robert + Freddie + David + Sue + Me
, a memoir by Stevie Phillips, another 1970s superagent and Mengers' CMA colleague
(discussed in
TCR
in October 2015), in which these two wheeler-dealers are major characters. Kellow told
TCR
-- "Freddie Fields and David Begelman really let Sue build up steam on her own, They weren't at all jealous of her, and they didn't try to keep her in her place. I think they too were quite intrigued by her and wanted to see exactly how much she could pull off. And then they could get credit for backing a winner."
What's Up Doc? poster, 1972.
Mengers encouraged her stable of stars to keep busy and not wait around for perfect scripts that may never come along. She reminded them that being out of sight usually means being of out of mind and that a large body of work is bound to contain treasures among the junk. And, of course, if you work a lot you make more money. Some clients, such as Caine, embraced this just-do-it style, with his film appearances running the gamut from the killer bees disaster pic
The Swarm
to Woody Allen's urbane
Hannah and Her Sisters.
Mengers' favorite client was Barbara Streisand, whom she considered something akin to a sister. Despite this closeness of agent and star, Streisand was among those clients who resisted lending her time and talent to low quality material just for the sake keeping in the public eye and fattening the wallet. One of Mengers' biggest triumphs was
What's Up Doc?
, a sendup of 1930s screwball comedies, that teamed Streisand with two other premier Mengers clients, Ryan O'Neal and director Peter Bogdanovich. The movie was smash with both critics and the public. Still, Streisand only reluctantly agreed to reteam with O'Neal in
The Main Event
, a lame romantic comedy directed by journeyman Howard Zieff. Though savaged by critics,
The Main Event
was another box office smash but it was also the kind of commercial schlock that led Streisand to eventually seek another agent.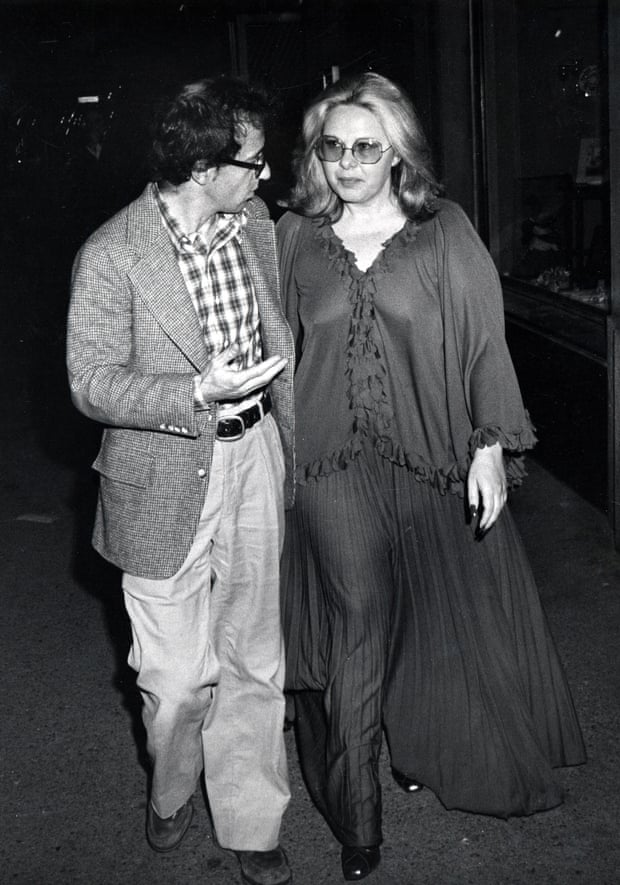 Mengers with Woody Allen, 1981.
Photo/Ron Galella/Wireimage
"I spoke with Barbra Streisand for the book, and she was very candid about the fact that they often didn't agree on the quality of material Streisand was being offered." Kellow told
TCR
. "Streisand had very mixed feelings about
The Main Event
, and Sue just saw it as a nice, big, juicy commercial hit. Sue had intense respect for Streisand's talent, always--even after they had broken up as client and agent. But she had nothing to do with the musical end of Streisand's career at all, only with the movies. And some of them --
Funny Lady
,
A Star is Born
, and
The Main Event
--were pretty crummy. It's a shame that Sue couldn't have gotten her more material on the level of
The Way We Were
. The best thing Sue did was get her a lot of money--$4 million for a month's work on
All Night Long
."
By the 1980s, most of the performers Mengers' had taken to the top had moved on to other agents. Such changes are par for the course in show business but Mengers took it personally. In
Can I Go Now?
Kellow writes -- "Sue's contempt was fearless, epic, freely vented and unleashed and indiscriminate. It was one thing to be angry that a client had left; it was another to wish that he would get cancer and die."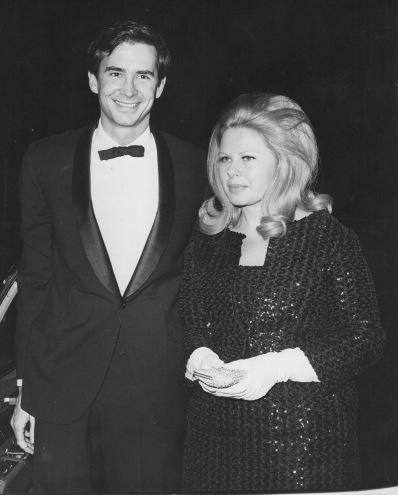 Young Mengers with Anthony Perkins, an
early client, 1960s.
The film world was becoming more smoothly corporate and less personality driven. Mengers' flamboyant style, genuine love for movies, and adolescent-like thrill at being with movie stars (even stars she had created herself) didn't fit in with business school trained, balance sheet oriented executives who considered motion pictures just another profitable venture. In 1986, Mengers, in her mid-fifties, went into an early retirement. A brief comeback at the rival William Morris agency two years later came to nothing. Kellow told
TCR
-- "Sue's stint at William Morris came too late in the game. She had gotten burned out on the business by then and lost her taste for the fun and wildness of it. She took the job mostly because she was seduced by the money. And she thought she could get a lot of her old clients to come back, and only one--Christopher Walken--did. Toni Howard, a prominent agent herself, and someone who was enormously helpful to me on the book, told me that you can't say 'I hate actors!' as often as Sue did and not have people remember it and resent it. And the agenting game had changed by then. The emphasis was becoming all about numbers and the back end, and she couldn't care less. She was interested in the creative end of it, and setting a top salary--and then she was finished, for the most part."
Author Brian Kellow
Before her death in 2011, Mengers arranged for her business records to be destroyed. With little written material available, Kellow had to rely mainly on interviews to put the biography together. With the door-opening help of some of Mengers' longtime friends including the literary agent Boaty Boatwright (a Mengers pal from their New York days), Kellow gathered an impressive array of interviewees. The long list includes those who knew Mengers well such as Streisand, Caine, MacGraw (or "My Ali," as Mengers liked to say) and Candice Bergen along with others, such as Woody Allen, whose interactions with Mengers were occasional and all business. "People wanted to talk about her because she was absolutely not like anyone else. How many times can you say that someone doesn't remind you of anyone else? Not very often, really. She made an enormous impact in people's lives. They were shocked by her, delighted by her, intrigued by her, angered by her. She was exasperating, yet people had great affection for her, and they wanted to talk about it with me. I could feel a lot of her former clients working through their complicated feelings about her while they spoke to me," Kellow explained to
TCR
.
Mengers with Kris Kristofferson at premiere of
A Star is Born, 1976. Photo/Wireimage
Though she no longer wielded power, in her long retirement Mengers could still draw big names and new faces (Jennifer Anniston became a friend) to her parties but it was nothing like the old days. "Sue's last years were a sad waste," Kellow told
TCR
. "She ate a lot, gained weight, smoked way too much weed, and alienated a lot of her friends with rude, sadistic comments. It's a very painful section in my book--it was painful to write, and I'm sure it's painful to read. And yet, she still had her lacerating wit, and people from all over Hollywood, young people too, continually sought out her professional advice. Again, her behavior was appalling much of the time, yet many people were deeply loyal to her."
Is there any equivalent to Mengers in today's Hollywood? Kellow says -- "I"m sure it's likely that someday someone will do a definitive biography of Ari Emanuel. But that person won't be me. I've done my one and only book about an agent!"