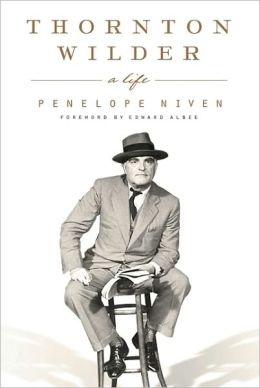 Thornton Wilder: A Life
by
Penelope Niven
 is a superb new biography of the American playwright, novelist, and man of letters.
A winner of three Pulitzer Prizes and so far the only writer to earn Pulitzers in both fiction and drama, Thornton Wilder stood at the top of the American literary scene for nearly half a century. He gained prominence with his first novel
The Cabala,
(1926), about a young American in Rome after World War I, and soon moved into the top echelon of writers with his now classic
The Bridge of San Luis Rey
 (1927), a slim novel that asks profound questions in its examination of the lives of a disparate group of characters killed in a bridge collapse.
Wilder's favorite genre was the theater. He enjoyed critical and commercial success with the plays 
The Skin of Our Teeth
 (1942), 
The Matchmaker
(1955) -- which later served as the basis for the musical
Hello, Dolly! -- 
and most famously 
Our Town
(1938). On a nearly bare stage with the proceedings narrated by an avuncular Stage Manager character,
Our Town
 presents the eternal cycle of life and death among ordinary people in an ordinary New England town in the early twentieth century.