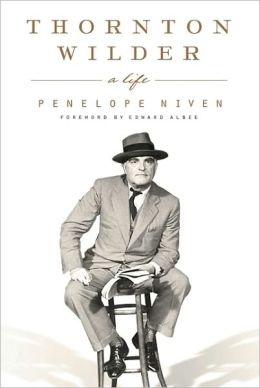 Thornton Wilder: A Life
by
Penelope Niven
is a superb new biography of the American playwright, novelist, and man of letters.
A winner of three Pulitzer Prizes and so far the only writer to earn Pulitzers in both fiction and drama, Thornton Wilder stood at the top of the American literary scene for nearly half a century. He gained prominence with his first novel
The Cabala,
(1926), about a young American in Rome after World War I, and soon moved into the top echelon of writers with his now classic
The Bridge of San Luis Rey
(1927), a slim novel that asks profound questions in its examination of the lives of a disparate group of characters killed in a bridge collapse.
Wilder's favorite genre was the theater. He enjoyed critical and commercial success with the plays
The Skin of Our Teeth
(1942),
The Matchmaker
(1955) -- which later served as the basis for the musical
Hello, Dolly! --
and most famously
Our Town
(1938). On a nearly bare stage with the proceedings narrated by an avuncular Stage Manager character,
Our Town
presents the eternal cycle of life and death among ordinary people in an ordinary New England town in the early twentieth century.
Thornton Wilder c. 1940 (Getty
Images)
In the 1970s, after his contemporaries Fitzgerald, Hemingway, Faulkner, and Steinbeck had passed from the scene, Wilder was on the bestseller list with the comic novel
Theophilus North,
about a young school master's escapades among Newport, Rhode Island high society. Along the way Wilder had picked up a
National Book Award
for his longest and most ambitious novel
The Eighth Day
(1967)
,
a saga of two Midwestern American families that explores mankind's continuing struggle for improvement.
Wilder was a writer and scholar of wide interests. He spoke several languages and was an expert on the plays of seventeenth-century Spanish dramatist
Lope de Vega
. He championed the works of Gertrude Stein, with
whom he shared a friendship and correspondence
, and James Joyce, especially Joyce's
Finnegan's Wake
. He also wrote the screenplay to the Alfred Hitchcock directed thriller
Shadow of a Doubt
(1943), about a serial killer visiting his wholesome relatives in a small California town.
Wilder's other work includes the novels
The Woman of Andros
(1930),
Heaven's My Destination
(1935), and
The Ides of March
(1948) and several one-act plays, most notably
The Long Christmas Dinner
(1931),
The Happy Journey to Trenton and Camden
(1931) and
Pullman Car Hiawatha
(1932).
Wilder died of a heart attack in December 1975 at age seventy-eight.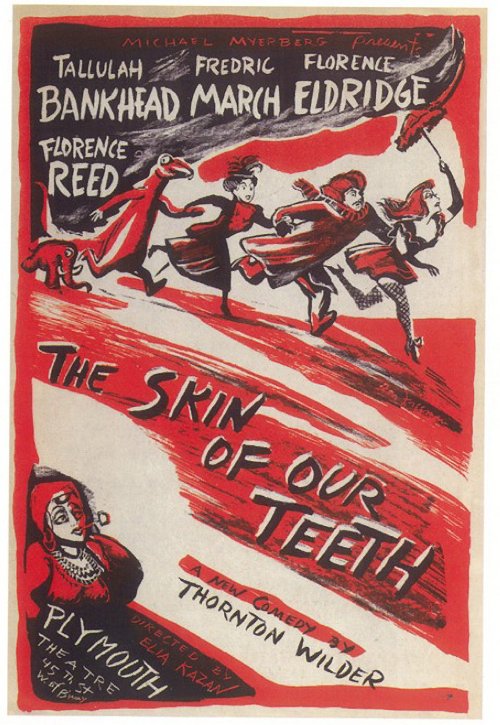 Poster for The Skin of Our Teeth
original Broadway production
(1942)
Our Town
is frequently produced, including a
2002 Broadway revival starring Paul Newman
as the Stage Manager and a 2010 contemporary-dress
off-Broadway production with Helen Hunt
as a female Stage Manager.
The Bridge of San Luis Rey
often shows up in American literature courses. Yet Wilder's work has received relatively scant attention from critics and biographers. Published in the fall of 2012 by Harper Collins, Niven's book is the first major biography of Wilder since
Gilbert A. Harrison
's
The Enthusiast: A Life of Thornton Wilder
in 1983.
In the foreword to
Thornton Wilder: A Life
Edward Albee
, who as a novice dramatist was mentored by Wilder, calls Niven's biography "a splendid and long-needed work." Albee discusses "the essential American playwrights -- the ones whose accomplishments define our culture" -- and asks "why is Thornton Wilder so infrequently placed up there where he belongs?"
The Bridge of San Luis Rey,
First Edition, 1927
Bruce Jacobs in Shelf Awareness writes
-- "When people think of Thornton Wilder these days, it likely involves a vague memory of a high school performance of
Our Town
...Thanks to Penelope Niven, this void in American literary biography has been exquisitely filled...The underappreciated rich, thoughtful and generous life of Thornton Wilder is underappreciated no more. Penelope Niven's biography doesn't embellish the facts but lets Wilder's words and accomplishments quietly speak for themselves, fascinating chapter by fascinating chapter."
Charles Isherwood in the New York Times
calls Niven's work a "deeply researched and fluidly readable book" that offers a "fine-grained, sympathetic portrait" of a writer whose "theatrical masterworks in particular still have the power to inspire awe for the economy with which they do indeed bring together the mundane and the cosmic, the specific, homely detail and the overarching truth."
Niven is the first biographer of Wilder to have access to a vast amount of papers, records, and photographs that had been withheld by Wilder's sister Isabel who for many years worked on her own never completed biography of Wilder. After Isabel Wilder's death in 1995, these items joined other
Wilder material in the Beinecke Rare Book and Manuscript Library
at her brother's alma mater, Yale University.
Niven's other work includes biographies of poet Carl Sandburg (
Carl Sandburg: A Biography
, 1991) and photographer Edward Steichen (
Steichen: A Biography
, 1997),
Swimming Lessons
(2004), a memoir, and she is co-author of
Voices and Silences
(1993), the autobiography of actor James Earl Jones.
Niven recently took time out of her busy schedule to converse electronically with
The Committee Room
TCR Talks with Penelope Niven, author of Thornton Wilder: A Life
Penelope Niven
Q:
Why do you think Wilder, as Edward Albee asks in the foreword to your book, is "so infrequently placed up there where he belongs?"
A:
As critic Malcolm Cowley reflected in
A Second Flowering
, Wilder's work has received "less critical attention than the work of any other major American writer." Cowley is speaking here primarily of novelists, but I believe the statement can apply as well to Wilder the dramatist. I think there are several reasons for this: Because of Wilder's versatility he defied categories. He didn't work in one genre alone. He paid little attention to critical theories. People quite simply did not know how to classify him. Was he a novelist, a dramatist, an essayist? He was continually evolving as a writer, experimenting with new forms. Nothing he wrote was quite like anything he had written before.
Some critics looked askance at the commercial success and the popularity of
The Bridge of San Luis Rey
and
Our Town
and
The Skin of Our Teeth
and other Wilder works, as if to suggest that a play or novel that enjoyed wide commercial success might not be serious literature.
For a variety of reasons Wilder's work slipped out of the academic anthologies over the years and received diminishing attention from academics and critics.Yet his plays have continued to be performed for decades. The 75th anniversary of
Our Town
in 2013 appears to be generating a rediscovery of Wilder's plays as well as his novels.

Playbill for The Matchmaker, Broadway,
1956
Q:
The book is, as you put it in the preface, a "family saga" as much as an exploration of Wilder's life. Why is his family so important?
A:
In all my books I have given as much attention as possible to the biographical subject's family life and relationships, and to the childhood and young adulthood when the creative life is evolving. I don't believe you can fully understand the artistic achievement and the celebrity years without that foundation of knowledge, insofar as the surviving evidence provides it. Wilder's family was crucially important in his life, as family life is important in any individual life–yours, mine, anyone's...Wilder writes about the importance of family in his life and in his work, and family themes are inextricably woven into his fiction and drama. He called himself the Poet Laureate of the Family.
Despite or perhaps even because of the fact that the members of the Wilder family were often separated by vast geographical distances, they were bound together by profoundly deep bonds. Because they wrote long, frequent letters to each other, and saved many of them, we have a remarkable record of the details and dynamics of Wilder family life. We can hear Thornton Wilder's young,emerging voice in countless letters, as well as in his early manuscripts and journals, and we can hear his interactions with his parents and his siblings, as well as their observations about him.
Heaven's My Destination, first edition
1935
Q:
Wilder is rare among writers in that he was skilled and successful as a novelist and as a playwright. How did Wilder's writing style lend itself to both fiction and drama?
A:
As Wilder's journals and letters reveal, he often conceived the idea for a story first, and then decided --or the material decided for him -- whether it would be fiction or drama. He was a gifted story teller. His commitment to the story and its characters led him to make organic decisions about the best vehicle for transmitting the story. On occasion he began writing a story as fiction and then modulated to drama, or set out to write a play and wound up writing a novel. The story was the key to the genre he ultimately chose.
Q:
You tell Wilder's story by using his own voice (in his letters) as much as possible. How important were Wilder's letters to the project?
A:
Wilder's letters were crucially important in my conception of the book, and in my research and writing. Because of the profusion of letters and journals, and the generosity of the Wilder Family LLC in allowing me to quote them freely, this was a unique opportunity for readers to hear Thornton Wilder tell his story in his own voice.You can also hear the Wilder family members in their own voices, either telling their own stories or sharing their impressions of Thornton. They were a lively, articulate, opinionated family, and who can tell the story better than those who lived it?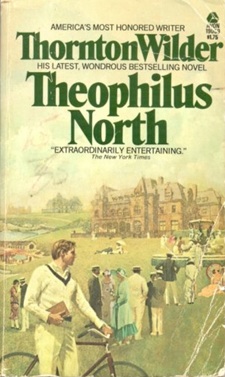 Paperback edition, 1974
Q:
Wilder is one of many important American writers born around 1900 -- Hemingway, Fitzgerald, Faulkner, Steinbeck, Langston Hughes, Thomas Wolfe, and others. Why do you think Wilder's generation produced so many major literary figures?
A:
I am not sure. It's a complex question requiring a complex answer. Gertrude Stein spoke of the Lost Generation. Malcolm Cowley called them the World War I generation. A thoughtful opinion would, I think, need to take into account the challenges of a new century; the advent of modernism; the desire of these emerging writers to create new forms and embrace new subject matter; the impact of World War I; the quest after the war for a new concept of what it meant to be American and, therefore, a new concept of American literature; the sojourns of certain of these American writers in Europe, and a greater ease of communication among them in the United States and in Europe, sometimes resulting in rivalries but often in mutual encouragement and stimulation.
Scott Fitzgerald wrote to Wilder to congratulate him on the publication of
The Bridge of San Luis Rey
, and Wilder reciprocated by saying he had been an admirer and a student of
The Great Gatsby
. Wilder wrote to Fitzgerald January 12, 1928 -- "And yet nothing interests me more than thinking of our generation as a league and as a protest to the whole cardboard generation that precedes us from Wharton through Cabell and Anderson and Sinclair Lewis."
Frank Sinatra (left), Paul Newman, and Eva Marie
Saint in NBC-TV musical production of Our
Town, 1955
Q:
Can you comment on your treatment of Wilder's sexuality? A few critics (as I'm sure you know) have taken you to task for not simply categorizing Wilder as gay.
A:
It isn't simple or easy to categorize Wilder in any aspect of his life, and extended immersion in his papers and other resources only makes it more complicated...He left no definitive statement as to sexual preference or as to whether he had an intimate partnership or a physical relationship with anyone, man or woman. He did not choose to write about or publicize his sex life. He did not write novels or plays with overtly sexual content or themes.
Was he gay or straight or asexual or bisexual? He did not categorize himself, and people who knew him offered varying perspectives...Some younger gay men have considered Wilder a hypocrite, believing that he was gay but afraid to come out of the closet. If one is to judge Wilder, he deserves to be judged within the context of his times–an era of legal and social repression, wherein open homosexuality or bisexuality would have been taboo. I tried to point out that rather than hypocrisy, other motivations explain Wilder's reticence on the matter of his sexual identity or experience...Whether Wilder was heterosexual, homosexual, bisexual or asexual, he was essentially a deeply private man, the product of a repressive upbringing in an intolerant, unforgiving legally repressive era...[My] job as a biographer, as I see it, is not to wish or conjecture that events happened, but to honor and respect the primary sources, and, insofar as possible, to convey what the subject himself/herself wrote or said or did. Wilder sources -- papers, documents, interviews -- do not definitively solve the mystery about his sexuality and his sexual practice. Perhaps those who definitively categorize Wilder as gay or straight or bisexual or asexual will consider sharing their sources and documentation for the historical/biographical record.
Hitchcock film with screenplay
by Thornton Wilder (1943)
Q:
Why did you want to write about Wilder?
A:
I am fascinated with the lives of artists-- with their involvement in their times and their impact on the culture and the society in which they lived and worked; and with the primary question of how the artist and the person evolves, and where the art comes from, and why.
When the opportunity came to write about Wilder, I couldn't resist the feast of his mind, the richness of his novels and plays, the magnetism of his spirit and his personality, and the sheer fun implicit in so many of his adventures. There is darkness in Wilder, too–very human struggles and despair and the enduring questions about how to live...I have been blessed with each of my books to be the first writer, in each instance, to work with access to papers and people who are central to each life story–invaluable resources that were unavailable to previous biographers. Given that unique access and opportunity, I work very hard to lay the groundwork, to construct the reliable foundation for the life, and to document the resources exhaustively so that other biographers and scholars, critics and theorists, teachers and students, actors and directors, archivists, filmmakers and curators may find the book a useful, trustworthy tool as they do their own work...Already I am conferring with scholars at work on Wilder who are looking at my ninety pages of endnotes as a sort of GPS to sources, papers, documents, pieces of the puzzle. Who knows what discoveries lie ahead!
Here's more information --
Thornton Wilder Society
.
Official Website of the Thornton Wilder Family
.
The Big Read: The Bridge of San Luis Rey and Our Town
(National Endowment for the Arts).
"
Wilder created Our Town with a bit of everywhere
."
NPR Books
. 24 October 2012.
"
Penelope Niven on Thornton Wilder
."
Reader's Almanac
(official blog of The Library of America). 27 September 2012.
"
Thornton Wilder: The Art of Fiction (interview), no. 16
."
Paris Review
. Number 15. Winter 1956
The Committee Room. Interesting Articles for Interested Readers.