Gargoyle #60, 2013
The Committee Room
continues its
TCR Literary Journals Series
with a look at
Gargoyle
, the venerable yet always up to date literary journal based in the Washington, DC area.
Gargoyle
was founded in 1976 by Richard Peabody, Russell Cox, and Paul Pasquarella. Intending to call the new journal
Pan
, the three young editors went to Washington National Cathedral to photograph a statue of the god Pan. Photos of the cathedral's gargoyles turned out to be more interesting so the journal was renamed.
Cox and Pasquarella left
Gargoyle
after the first year but Peabody forged on working with other co-editors until 1990 when the magazine temporarily ceased publication.
Gargoyle
returned in 1997 with Peabody co-editing with
Lucinda Ebersole
.
Richard Peabody with wolf
Peabody's work with
Gargoyle
and its parent company,
Paycock Press
, along with his own writing, his teaching at John Hopkins and Georgetown Universities, The Writer's Center, and other locations, have helped make him a major figure on the Washington, DC area literary scene.
For several years in the 1990s, Peabody co-owned with Ebersole the now closed Atticus Used Books and Music in Washington, DC.
The novelist
Mary Kay Zuravleff
, whose work has appeared in
Gargoyle
,
said of Peabody to the Washington Post
-- "You know those theories about networking where you only need one person with a certain number of connections and then you can connect everybody? He is in the beehive."
Gargoyle
has published the work of many prominent writers and poets such as Julia Alvarez, Antonya Nelson, Linda Pastan, Joe Queenan, and Henry Taylor.
Gargoyle #59, 2012
Over the years
Gargoyle
has appeared in various formats including newsprint editions, poetry book sized volumes, and even issues done as spoken word CDs. For the past few years it has come out in thick yet easily portable annual editions brimming with an eclectic mix of graphics, poetry, fiction, reviews, and interviews.
"
Gargoyle
truly is a journal publishing the writing of our time. Within its pages you will find stories, essays, and poetry about ex-convicts and the homeless, about the mortgage crisis and academia, about those home from Iraq and those disillusioned about their future, about writers learning how to be better writers, and people struggling to keep their jobs. But also, let's not forget the timeless themes: love, family, friendship, sex, beauty, fear, loss, hope, joy. There is plenty of that here as well. This journal is big, people," wrote
Becky Tuch in The Review Review
.
Peabody has edited or co-edited over twenty anthologies including
Grace and Gravity: Fiction by Washington Area Women
(2004) and
Kiss the Sky: Fiction and Poetry Starring Jimi Hendrix
(2007). A prolific poet and fiction writer himself, Peabody's own work includes
Blue Suburban Skies
(2012), a collection of short stories, and
Speed Enforced by Aircraft
(2012), a volume of poems.
Peabody recently sat down (via e-mail) for an interview with
TCR
.
TCR Talks with Gargoyle Editor Richard Peabody
Gargoyle #57, 2011
Q:
What is
Gargoyle's
circulation?
A:
These days we're lucky to move 1,000-1,500 copies. A lot of that is due to the lack of library sales. The libraries were the life's blood back in the 1970s and 1980s. But cutbacks have gutted their attention to litmags. We had one hundred library subscribers back in 1990. Now we have about ten. In the old days we used to print 2,000-3,000 copies.
Every issue since #50 has been printed in Charlotte, NC by
Main Street Rag
. They own print on demand equipment and because we can now print copies as we need them we don't have to take the hit of printing 2,000 copies minimum in order to get the price break from a larger print shop. We do an initial run of 500-1,000 books or issues and then print more copies as need arises...Saves us from hemorrhaging all of our money by storing unsold inventory in a storage facility.
Q:
How many submissions does
Gargoyle
receive during its submission period?
A:
Last summer we read from June 1st until June 17th. We were seeing one hundred submissions a day that first two weeks. We accept/reject as we go until we're either full-up, which is what happened last year, or we hit July 1st. We don't sit on work or read outside of June. In the past we read submissions all summer. Mostly because nobody else did, the reading periods mostly mirroring the academic year. These days indie mags have all sorts of odd reading periods. It's a full-time job just to keep up with it all. I know of one mag that reads only from Christmas day until New Year's day.
Richard Peabody and Lucinda Ebersole
at their store Atticus Books, c. 1990s
Q:
What percentage of submissions are accepted for publication?
A:
We don't print a lot of non-fiction and don't see that many non-fiction submissions, so that number is pretty low. Maybe one out of five submissions. Poetry is more like one out of every sixty, and fiction one out of every forty.
I think the big change in fiction is that where before you'd run five to ten stories that were thirty to forty pages in length, today's markets have shrunk the story so that flash fiction is in and you can accept more writers, and the market is geared more to stories that are twenty pages max.
Q:
What are the most common reasons why a submission is rejected?
A:
That old saw—they've never seen the magazine and have misconceptions about the types of work we publish. The name was off-putting in the early years because a lot of people assumed we were a sci-fi or horror mag. The name seems more fitting in these days of overlapping genres. We've found ourselves actually printing edgy material that could be considered genre fiction today. But our main goal has always been a literary one. I think for the same reason it was difficult to attract women writers—they found the name off-putting.
Gargoyle, #46, spoken word
issue on CD
I'd say 95% of what we've published since 1997 has come to us via the internet. We've been astonished that the big time litmags still hold a hard line and won't consider simultaneous or electronic submissions. I don't get it. Almost everything we see via snail mail these days is by somebody who has no clue what has been published during the past fifteen years. There are always exceptions but it's rare that anything invigorating has dropped into my mail box.
Q:
What kind of material would you like to see more often?
A:
I'd love to see more sports or music related works. I love the southwest and always have an eye out for work set in red rock country.
Q:
What type of material would you like to see less often?
A:
The same-old same-old. The Ray Carver workshop story. Formal rhyme. Stories that could have been published in the
Saturday Evening Post
in the 1950s. I also think we've seen more than enough stories about Alzheimers or street people.
Q:
What are the advantages/disadvantages of being unaffiliated with a university?
A:
We're not beholden to anybody. We can print whatever we want. That's the major advantage. We're not glued to a particular bottom-line or budget. If the issue runs an additional one-hundred pages I can simply do it. Plus our staff doesn't turn over.
The down side is not having a ready-made university audience, an actual brick and mortar office, or writing program interns who are motivated by grades to work their butts off. We could also use the built-in publicity machine a university can provide, including a space for readings and launches, or mailings, if need be.
Issue #58
Q:
What are the advantages/disadvantages of
Gargoyl
e's current format (print annual)?
A:
It's expensive. I've been close to going online-only like
Shenandoah
and
Tri-Quarterly
have but since I'm not a tech head it would probably cost me almost as much money to pay a staff to prepare everything. I think about quitting all of the time. And when it's no longer fun, I will.
The advantage is that our thick brick of a volume is memorable in ways that many online magazines (not all) are not. They frequently have the lifespan of mayflies. Our reputation and following can be traced directly to the reaction people have to the physical copies, the covers, and the width and breath of the work. That and we've been around since 1976. Longevity counts for a lot in this cray cray world.
Q:
Do you plan to expand
Gargoyle Online
?
A:
We're leaning more and more in that direction, hoping to increase our web presence by having exclusive new work online only. But then I've been trying to get all of the back issues/archive online for a decade now without much success, again, because I don't know how to work html, and with two kids don't know when I'd find the time to fit it in.
Gargoyle issue, c. 1980s
Q:
How has the literary world changed since you came on the scene in the 1970s?
A:
More MFA programs, more graduates, more poets and writers, more teachers, the online explosion of new markets, blogging (though you could argue that blogs have super-saturated and are on their way out already), the death of indie bookstores, though the death of Borders and the impending death of Barnes & Noble has caused a new gen of indie bookshops to bloom, particularly in Brooklyn. Many have started their own imprints and publishing arms. Many have re-discovered letterpress printing as the owners of the equipment have retired or died off and the equipment has gone on the market again. I think that attention to printing detail and paper is more than nostalgia.
I think the baroque and antiquated New York publishing model is getting shaken up but things have been changing so quickly it's difficult to see where it will all lead. Is it cool to write fan fiction now? Is it cool to make your own e-books and sell them online? Sure. But with the government chomping at the bit to start taxing internet sales that could all get crushed in the near future. We'll have to wait and see. Right now it looks hopeful though the audience for serious lit of the kind Lucinda and I write, edit, publish, seems to be getting smaller and smaller. I could care less about best sellers and
Fifty Shades of Gray
, et al. My focus is directed someplace else.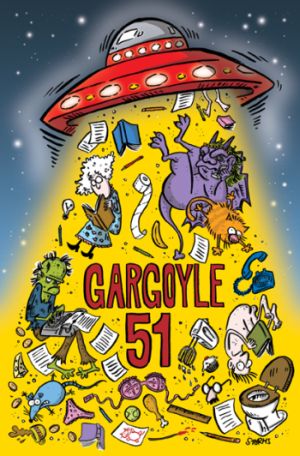 Q:
Would you agree that contemporary readers are more interested in non-fiction than in fiction? If so, why do think this is?
A:
Because the major book review outlets—the
New York Times
,
Washington Post
,
Los Angeles Times
, and whatever remains, decided a decade or so ago that non-fiction was more important than literature. Who gets to make those sorts of decisions? The corporations still need novels to churn out movies, though with
Argo
even that's changing. The United States has become a very anti-intellect, anti-imagination environment. We, in the indie world, try to keep the passion alive if only so my kids will be able to play the sort of role the Irish monks did maintaining the language during the Dark Ages.
Q:
Would you agree that the public's interest in poetry has declined near to the point of non-existence? If so, why do you think this has happened and is there any hope for a comeback?
A:
I think there's a lot of competition for the public's attention but during my lifetime the audience for poetry has always been very small. The slam and open mic scene has introduced spoken word to a new generation or two and there are more mags publishing poetry than ever before. I also think you could argue that more people are writing poetry right now than ever before. I don't believe there's a drop-off in talent among the big names of our time. I think there's more diversity in terms of voice, poetic school, and possibility than ever before. Will poetry ever sell enough to create the poetic version of a J.K. Rowling? Not bloody likely. And perhaps that's for the best. We're living in a time when everybody is a writer. When everybody's a poet I assume the world will come to an end.
Speed Enforced by Aircraft,
poems by Richard Peabody, 2012
Q:
What is the biggest challenge in editing a literary magazine?
A:
Gathering the money to pay for it. We've never been a nonprofit publication so we don't apply for grants...We rely on subscriptions and individual sales. Do we break even? Never have. Some books or issues sell better than others. That helps. But we consistently lose money. When newbie editors tell me they have to break even to continue I have to laugh. Just not going to happen.
After that, the biggest dilemma is distribution. Folks who choose to print with Ingram's POD setup, Lightning Source, are automatically included in their catalog listings. That doesn't guarantee that bookstores will carry your publication but it's an enticement for many. We printed issue #48 with them and frankly it was a cruddy print job. That's what led me to Main Street Rag. Smaller is often better.
So, as my wife says, why bother? Because it's all I know how to do. Because I get a lot of satisfaction out of helping other poets and writers who are starting out. Because I pay attention to a lot of lesser known established writers that people have either forgotten or never noticed. Because I get to create an object that didn't exist before. Because Lucinda and I believe it matters, as ridiculous as that may seem.
The Committee Room. Time Spent with TCR is Never Wasted.