The Far Side of Paradise
(first edition, 1951)
The Committee Room
marks the release of the latest film version of
The Great Gatsby
by taking a look at
The Far Side of Paradise
, Arthur Mizener's classic biography of
F. Scott Fitzgerald
that played an important role in establishing Fitzgerald's reputation as a major American writer.
For much of the 1930s and 1940s, Fitzgerald was widely viewed as a literary curiosity noteworthy only for his vivid depictions of the Roaring Twenties. When Fitzgerald died in December 1940, a
New York Times
obituary carried the headline "Brilliant novelist of the Twenties; inactive recently" and noted that "the promise of his brilliant career was never fulfilled."
Published by Houghton Mifflin in early 1951, a little over ten years after Fitzgerald's death,
The Far Side of Paradise
helped rescue Fitzgerald from labeling as a period author and led to the acceptance of his work as a subject of scholarly inquiry. Mizener dealt frankly with Fitzgerald's alcoholism and his wife Zelda's mental illness.
"Mr. Mizener writes briskly and well, with sympathy and considerable psychological perception...This is not only an interesting study of an interesting writer, it is also the moving and pathetic story of a tragic life," wrote Orville Prescott in a
New York Times
review of
The Far Side of Paradise
.
Arthur Mizener, 1960
(courtesy of Cornell University Library)
Mizener's admiration for Fitzgerald began when, as a teenager in the early 1920s, he read
This Side of Paradise
, Fitzgerald's bestselling debut novel based in part on his student days at Princeton. Mizener went on to attend Princeton himself and often loitered around the places Fitzgerald was said to have frequented. He eventually earned a doctorate in English literature from Princeton and had a long career as a professor. Mizener was on the faculty at Carleton College in Minnesota when he wrote
The Far Side of Paradise
and later taught for many years at Cornell University. He died in 1988.
In the introduction to
The Far Side of Paradise
Mizener writes -- "Fitzgerald's work is full of precisely observed external detail, for which he had a formidable memory, and it is this gift of observation which has led to the superficial opinion that he was nothing but a chronicler of the social surface, particularly of the twenties...
It is no help to this end that he began his career with a great popular success.
This Side of Paradise
connected him in many people's minds with 'the Jazz Age,' so that he was for them both the historian—'the laureate'—of the post-[World War I] generation and its exemplar."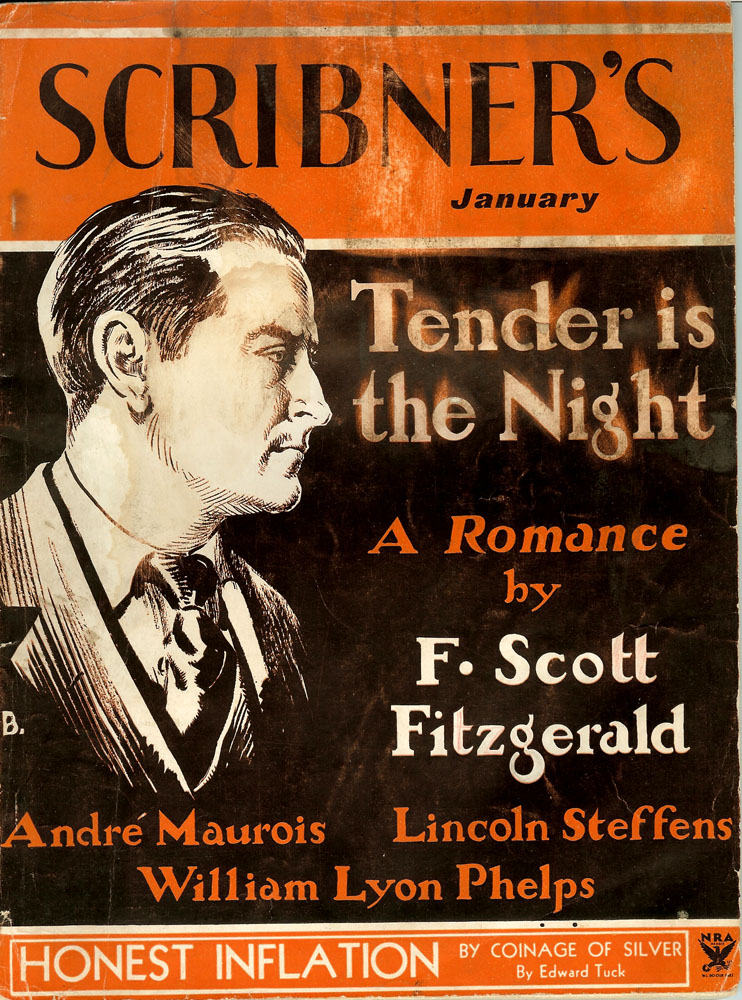 Tender is the Night, serialized
in Scribner's, January 1934.
Mizener notes that Fitzgerald's reputation also suffered because of the large amount of light, mediocre stories he wrote for high-paying popular magazines. The accumulation of dross led to his quickly being overshadowed by supposedly more serious and skillful contemporaries such as Ernest Hemingway and William Faulkner. However, Mizener points out that of "
Fitzgerald's one hundred and sixty stories, at least fifty are serious and successful stories, and perhaps half of these are superb. Even if we assume that Hemingway's forty-nine and Faulkner's fifty [what they had written up to 1951] are all first-rate—and this is evidently a false assumption—Fitzgerald as a serious writer of short stories compares very favorably with them both. The same thing is true of his novels. All this appears to have been by no means clear."
Other works by Mizener include
The Saddest Story: A Biography of Ford Madox Ford
(1971) and.four more books on Fitzgerald which he either wrote or edited -
Afternoon of an Author
(1957),
F. Scott Fitzgerald: A Collection of Critical Essays
(1963),
The Fitzgerald Reader
(1963), and
Scott Fitzgerald and His World
(1972).
Mizener also wrote
Twelve Great American Novels
(1967) which offers engaging and concise chapters on what he considers some of the finest American novels. The Fitzgerald work he includes in his golden dozen is not
The Great Gatsby
but
Tender is the Night
which he calls "the most mature and moving book Fitzgerald ever wrote."
Arthur Mizener's List of Twelve Great American Novels
The Deerslayer
(1841) by James Fenimore Cooper.
The Scarlet Letter
(1850) by Nathaniel Hawthorne.
Moby Dick
(1851) by Herman Melville.
Huckleberry Finn
(1884) by Mark Twain.
The Ambassadors
(1902) by Henry James.
The Age of Innocence
(1920) by Edith Wharton.
The Sun Also Rises
(1926) by Ernest Hemingway.
The Sound and the Fury
(1929) by William Faulkner.
Tender is the Night
(1934) by F. Scott Fitzgerald.
The Big Money
(1936) by John Dos Passos.
All the Kings's Men
(1946) by Robert Penn Warren.
Guard of Honor
(1948) by James Gould Cozzens.
Sources and more information --
Arthur Mizener
. Cornell University New Student Reading Project.
Arthur Mizener, 80, Critic Who Wrote Work on Fitzgerald
.
New York Times
, 15 Feb 1988.
F. Scott Fitzgerald Society
.
Breit, Harvey. "Talk with Mr. Mizener."
New York Times
, 28 Jan 1951.
Mizener, Arthur. "Gatsby, 35 Years Later"
New York Times
, 24 Apr 1960.
Prescott, Orville. Review of
The Far Side of Paradise
.
New York Times
, 29 Jan 1951.
The Committee Room. Interesting Articles for Interested Readers.