The Committee Room
 turns its attention to Anjelica Huston's recently published autobiography, 
A Story Lately Told
. The Oscar-winning actress offers up a briskly paced, impressionistic account of her action-packed first twenty-one years. A second volume, tentatively titled
Watch Me
, covering her acting career and highly publicized, long-term romance with actor Jack Nicholson, is due to be published later this year.
Huston's most notable films include screen versions of the novels 
The Witches
 by Roald Dahl, 
Prizzi's Honor
 by Richard Condon, and
The Grifters
by Jim Thompson.
"Unlike many celebrity memoirs, Anjelica Huston's is worth reading," says book reviewer Lewis Jones of
The Spectator
. "Her story is an interesting one, and is generally well written, sometimes even beautifully so."
Anjelica Huston, the daughter of the legendary film director John Huston, was born in Los Angeles in 1951 while her father, then in his mid-forties and at the top of his game career-wise, was in the Congo making his famous screen version of C.S. Forester's novel
The African Queen
.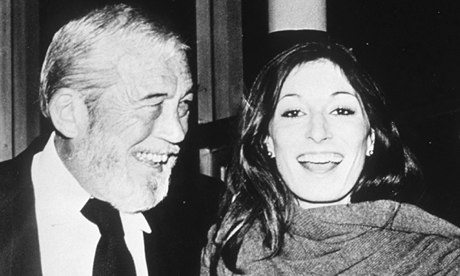 John and Anjelica Huston, 1976
(photo: Rex Features).
Though born in California, Anjelica spent her childhood far from Hollywood on a vast estate called St. Cleran's in the rural west of Ireland. Her father, for whom the term "big personality" might have been coined, played out a country squire fantasy.
Young Anjelica attends a local village school run by nuns (though her family is atheist), roams the green fields of St. Cleran's with the children of the servants (her only playmates) and becomes an excellent horsewoman. As soon as she is old enough she fox hunts, sometimes sidesaddle, with the local gentry. "There was nothing so close to the feeling of flying as being on a good Irish hunter when the hounds picked up a scent," Anjelica writes. Her eccentric brother Tony takes up falconry. Her beautiful young mother, the former ballerina Enrica "Ricki" Soma, the fourth of John Huston's five wives, endlessly arranges renovations to the ramshackle estate and entertains the numerous visitors, many of them writers, who the usually absent John Huston brings home with him.