The Committee Room
turns its attention to Anjelica Huston's recently published autobiography,
A Story Lately Told
. The Oscar-winning actress offers up a briskly paced, impressionistic account of her action-packed first twenty-one years. A second volume, tentatively titled
Watch Me
, covering her acting career and highly publicized, long-term romance with actor Jack Nicholson, is due to be published later this year.
Huston's most notable films include screen versions of the novels
The Witches
by Roald Dahl,
Prizzi's Honor
by Richard Condon, and
The Grifters
by Jim Thompson.
"Unlike many celebrity memoirs, Anjelica Huston's is worth reading," says book reviewer Lewis Jones of
The Spectator
. "Her story is an interesting one, and is generally well written, sometimes even beautifully so."
Anjelica Huston, the daughter of the legendary film director John Huston, was born in Los Angeles in 1951 while her father, then in his mid-forties and at the top of his game career-wise, was in the Congo making his famous screen version of C.S. Forester's novel
The African Queen
.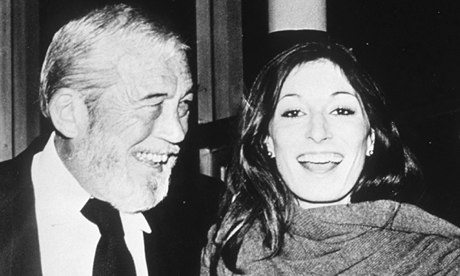 John and Anjelica Huston, 1976
(photo: Rex Features).
Though born in California, Anjelica spent her childhood far from Hollywood on a vast estate called St. Cleran's in the rural west of Ireland. Her father, for whom the term "big personality" might have been coined, played out a country squire fantasy.
Young Anjelica attends a local village school run by nuns (though her family is atheist), roams the green fields of St. Cleran's with the children of the servants (her only playmates) and becomes an excellent horsewoman. As soon as she is old enough she fox hunts, sometimes sidesaddle, with the local gentry. "There was nothing so close to the feeling of flying as being on a good Irish hunter when the hounds picked up a scent," Anjelica writes. Her eccentric brother Tony takes up falconry. Her beautiful young mother, the former ballerina Enrica "Ricki" Soma, the fourth of John Huston's five wives, endlessly arranges renovations to the ramshackle estate and entertains the numerous visitors, many of them writers, who the usually absent John Huston brings home with him.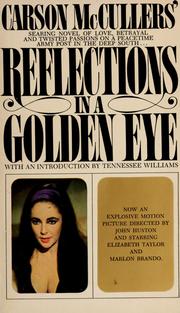 Reflections in a Golden Eye,
movie tie-in paperback edition, 1967.
"My father's friends who were writers were more understanding, more interested, more engaged that the rest," says Anjelica. She recalls the screenwriter Dalton Trumbo as "kind man, a sweet soul." Of Nobel prize winner John Steinbeck she says "He was kind and generous and treated me as an equal. One morning, he took me aside to the drawing room and removed a gold medal on a chain from around his neck and placed it around mine...it was the image of the Virgin of Guadalupe, and the name of the girl who had given it to him was 'Trampoline.' John wrote to me often and signed his letters with the stamp of a winged pig, 'Pigasus,' combining the sacred and the profane to great effect."
Irish novelist Edna O'Brien, working with John Huston on a screenplay, encounters Anjelica on the grounds of St. Cleran's and, in tears, tells her "Your father is a terrible man...a cruel, dangerous man."
A gravely ill Carson McCullers visits St. Cleran's in early 1967. Sipping bourbon from a little silver cup, McCullers requests a tour of the house. "Her stretcher was carried from room to room as she asked questions about each object's history and each painting's provenance," Anjelica writes.
White Hunter, Black Heart,
first edition, 1953.
On a family vacation in Switzerland, Anjelica finds herself trapped on a mountainside during a blizzard with novelist and screenwriter Peter Viertel. Anjelica recalls -- "We almost got lost in the whiteout; [Viertel] kept his humor and didn't falter, but I could see he had a moment's pause, blind in the freezing cold."
Viertel had collaborated with John Huston on the screenplay to
The African Queen
and used the experience as the basis of his novel
White Hunter, Black Heart
(1953), in which an egotistical movie director named John Wilson, while filming in Africa, neglects his duties in order to follow his obsession to shoot an elephant. Anjelica notes that a copy of
White Hunter, Black Heart
was "kept on the bookshelf in the downstairs bathroom at St. Cleran's."
Clint Eastwood directed and played the Huston-based lead character, John Wilson, in a 1990 film version of
White Hunter, Black Heart.
Ray Bradbury had a extended stay with the Hustons in Ireland in the mid-1950s, though Anjelica does not mention him in
A Story Lately Told
. As a promising young author, Bradbury worked on the screenplay for John Huston's film version of
Moby Dick
. Bradbury's comic novel
Green Shadows, White Whale
(1992) is an only lightly fictionalized account of his time with the Hustons. Its two-phrase title purposely echoes the title of Viertel's Huston-inspired novel.
John Huston and Ray Bradbury, 1956.
In Bradbury's story, a famous film director named John Huston convinces a squabbling, mismatched couple to come to his home in Ireland and get married because the idea of throwing them a "hunt wedding" amuses him. The John Huston character bullies and humiliates his wife, named Ricki, and addresses her as if she is "one of his children" when he isn't simply ignoring her. Bradbury wryly notes the incongruity of a godless Hollywood personality and his entourage taking up residence in provincial and intensely Catholic Ireland of the 1950s.
When Anjelica was about ten years old, her parents separated. She and her brother moved with their mother Ricki to London where Ricki commenced a busy social life mainly with writers and artists, including photographer Richard Avedon and poet
Stephen Spender
.
Anjelica Huston on cover of movie
tie in edition of Hans Koning's A Walk
with Love and Death, 1969.
Soon enough, adolescent Anjelica, a lanky, dark-haired beauty, is moving through Swinging Sixties London as naturally as a trout through a stream. She wears Gucci shoes with her school uniform, shoplifts from trendy boutiques, gets her hair cut by Vidal Sassoon, and begins frequenting discotheques. One of her closest friends is Stephen Spender's daughter, Lizzie. At the Spenders' house Anjelica meets poet
W.H. Auden
, who, Anjelica writes "took tea in his carpet slippers in their kitchen."
A Story Lately Told
takes Anjelica through the death of her beloved mother in a car accident in 1969; her reluctant cooperation in a failed attempt by her father to make her a teenage movie star with a screen version of
Hans Koning
's novella of romance in war-torn medieval France,
A Walk with Love and Death
; her modeling career in Europe and New York; a turbulent, near deadly, relationship with a mentally ill fashion photographer twenty years her senior; and a relieved return to her birthplace. Anjelica writes -- "Los Angeles was a dream that I'd cherished for some time...although I knew that I probably was not going to find work as a model, not being in the least the popular idea of a California girl. I nevertheless craved the sun, the open space, the beach -- the comparatively easy living. I put my old life behind me."
In the book's acknowledgments, Anjelica thanks "my darling sister Allegra, whose own memoir was an inspiration." Allegra Huston was born in London in 1964, the out of wedlock child of Ricki Huston and prominent British travel writer, historian and television presenter,
John Julius Norwich
. After Ricki's death, John Huston eventually took custody of Allegra whom he had never met but was legally his child since he and Ricki had never officially divorced.
Oxford-educated Allegra Huston worked for many years in the London publishing world. Her memoir,
Love Child
(2009), which covers her peripatetic childhood as a semi-orphan shuttling between different households in her fragmented family, is more thorough in regard to Huston family dynamics and takes a more questioning attitude than Anjelica's cool, conversationally-toned volume.
The Huston sisters, though their personalities and writing styles differ, paint similar portraits of their flamboyant father. "Dad stood alone," Anjelica writes. "He had demons. He could be charming and captivating, seductive and charismatic, but if he had it in for you, watch out...He was disgusted by ignorance, prejudice, and stupidity, but sometimes I think Dad was just plain angry." Allegra recalls John Huston as often kind and generous but basically a "difficult man...egocentric, impatient, judgmental, cuttingly sarcastic, and a gambler."
John Huston was the son of stage and screen actor Walter Huston. As a teenager he attended rehearsals of the New York production of Eugene O'Neill's
Desire Under the Elms
, in which his father had a major role. "What I learned during those weeks of rehearsal would serve me for the rest of my life. Not that I was aware of it at the time," John Huston writes in his autobiography,
An Open Book
(1980).
As a young man in the 1920s, John Huston was a journalist and aspiring fiction writer in New York. His short story "Fool," was published in
American Mercury
(March 1929). His mother, Reah Gore, Walter Huston's first wife, was a prominent journalist and close friend of novelist
Thomas Wolfe
. John Huston began his Hollywood career as a screenwriter and earned his first Oscar nomination as co-writer of the original screenplay to
Sergeant York
(1941), directed by Howard Hawks. "My only thrill in writing comes after I've written something, put it away and then on re-reading it later find it still holds water...a feeling largely of relief," Huston says in
An Open Book
.
Almost all of John Huston's films as a director were based on literary sources. His first directorial effort was his now classic 1941 screen version of Dashiell Hammett's
The Maltese Falcon
. Hammett's hard boiled mystery had been unsuccessfully filmed twice before. Huston attributed the success of his version to not trying to put his own stamp on the source material. Throughout his career Huston, who wrote or co-wrote the screenplays to most of his films, sought to preserve as much as possible of a literary work, especially the nuances of character that are often lost in the transition to film.
"When I make a picture, it's simply because I believe the story is worth telling," Huston writes in
An Open Book
. "It has been said that I have a tendency to choose stories whose point is the irony of man's pursuit of an impossibly illusive goal. If this has in fact been a consistent motif of my pictures, I must confess to being unaware of it. Admittedly, certain themes trigger a deeper personal response than others, and success stories, per se, are not really of much interest to me. I'm convinced that there are more failures than men of achievement among us. Moreover, the best men tend to think of themselves as failures."

Theophilus North, re-titled
movie tie-in paperback, 1988.
Among the other literary works Huston brought to the screen are
The Treasure of the Sierra Madre
by B. Traven;
The Asphalt Jungle
by W.R. Burnett, who Huston calls "one of the most neglected American writers,"
Beat the Devil
by Claud Cockburn, with a screenplay by Truman Capote;
Reflections in a Golden Eye
by Carson McCullers;
Fat City
by Leonard Gardner;
The Man Who Would Be King
, by Rudyard Kipling,
Under the Volcano
by Malcolm Lowry, and
Wise Blood
by Flannery O'Connor.
Huston directed a screen version of Tennessee Williams' play
Night of the Iguana
and turned Maxwell Anderson's blank verse drama
Key Largo
into a classic film noir. Huston also filmed Arthur Miller's original screenplay,
The Misfits
.
Lillian Ross, a young staff writer for
The New Yorker
, covered Huston's filming of Stephen Crane's
The Red Badge of Courage
in 1950. Ross' resulting book,
Picture
(1952), is a classic of film world journalism. A new edition of
Picture
was released in 1993 with a foreword by Anjelica Huston.
John Huston's last completed film was his 1987 screen version of James Joyce's short story "
The Dead
," starring Anjelica Huston. In August 1987, John Huston died of complications from emphysema while on location in Rhode Island directing
Mr. North
, a film adaptation of Thornton Wilder's 1973 bestselling novel
Theophilus North
.
Here's more information --
Peter B. Flint.
John Huston, Film Director, Writer, and Actor, Dies at 81
."
New York Times
29 August
1987.
Jonathan Rosenbaum. "
A Free Man: Clint Eastwood's White Hunter, Black Heart
." 1 December 2009.
The Committee Room. Time Spent with TCR is Never Wasted.