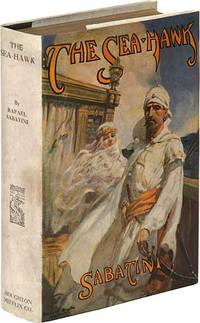 The Sea-Hawk by Rafael Sabatini.
A bestseller in 1923.
Who were the towering figures of twentieth century American literature? Well, that depends. If number of copies sold is the measurement then Fitzgerald, Hemingway, and Faulkner should step aside. Welcome in Gene Stratton Porter, Harold Bell Wright, Lloyd C. Douglas, and a host of other novelists whose names are only vaguely familiar nowadays if recognized at all.
Does anyone read the work of these authors today?
Linda Aragoni
does. Since 2007, Aragoni has been reviewing long ago bestsellers for her blog
Great Penformances
. Aragoni addresses only books written after 1900 but none less than fifty years old. She crafts her pithy reviews in terms of how the story would appeal to today's readers.
"In some ways, reading older fiction is like reading history only it's history on the personal level," Aragoni explained to
The Committee Room
. "Vintage fiction takes us back to another time, gives us not only facts about what happened and how people lived, but what mattered to them and why it mattered."
An editor, writer, and writing instructor based in Upstate New York, Aragoni reviewed older novels for a local weekly newspaper. "I just picked up whatever was handy at the library and that was the book I reviewed," Aragoni told
TCR
. After starting Great Penformances she began to read more systematically.
A bestseller of the late 1930s that
is still good reading.
To assure a variety of topics and styles, Aragoni, who uses
Publisher's Weekly
lists, selects titles from ten-year intervals. In 2013, she reviewed bestsellers from years ending in the number three, including
The Pit
by Frank Norris (1903),
T. Tembarom
by Frances Hodgson Burnett (1913),
The Sea-Hawk
by Rafael Sabatini (1923)
Ann Vickers
by Sinclair Lewis (1933),
So Little Time
by John P. Marquand (1943),
Battle Cry
by Leon Uris (1953) and
Caravans
by James Michener (1963).
Bestseller lists of the past aren't entirely made up of books that are little read today. Sinclair Lewis'
Main Street
and Edith Wharton's
The Age of Innocence
both made the
Publisher's Weekly
list in 1921. Vladimir Nabokov's
Lolita
was a top seller in 1958. Zane Grey, Booth Tarkington, Daphne Du Maurier, Herman Wouk, and Mary Roberts Rinehart, the mystery novelist said to have coined the phrase "The butler did it!," are examples of big selling authors of the past whose work still finds an audience. For the most part, though, bestsellers of the past have drifted into obscurity and are long out of print.
Linda Aragoni of
Great Penformances.
Great Penformances offers advice on how to locate copies of vintage titles. According to Aragoni, books from the early decades of the twentieth century can be difficult to find.
Film buffs might mistake the bestseller lists of the 1930s through the 1950s for a Turner Classic Movies programming schedule.
Anatomy of a Murder
,
No Time for Sergeants
,
Giant
,
From Here to Eternity
,
How Green Was My Valley
,
Mrs Miniver
,
The Song of Bernadette
,
Gentlemen's Agreement
,
Father of the Bride
,
Goodbye Mr. Chips
. This is just a sampling of classic movies that were bestselling books first.

Aragoni doesn't believe that popular fiction necessarily lends itself better to movie adaptation than more "literary" fiction does. "But I do think often popular fiction adapts better because it has fewer layers to leave out," Aragoni told TCR. "The viewer ends up with an experience that's different from the experience of reading but which is not substantively different from a reader's take-away. A film version of a popular novel is a visual Cliff Notes with emoticons. The viewer gets the facts plus the emotional content without the work of reading. By contrast, a novel by John Galsworthy or Anthony Trollope, to pick two authors who I think qualify as highbrow or classic writers, even when skillfully adapted for film leave anyone who read the novel first with a desire to go reread the book to fill in the gaps in the screen version."
The Enchanted April by Elizabeth
Von Arnim, a "wise and reflective"
and funny bestseller, 1923.
Aragoni points out that by reading vintage novels we can "discover that 21st century humans are not so terribly different from their ancestors. Men and women still fall in love, have children, raise those children well or badly, suffer the consequences."
She also notes that the passage of time doesn't always make a book out of date."Years don't determine whether a book is contemporary any more than years determine whether a person is young or old," Aragoni says. "A book is contemporary when it can take its readers into a different time and make those readers understand intellectually and emotionally what happens in that book as they are reading it."
Titles that Aragoni has praised in Great Penformances include The Enchanted April (1923 list) by Elizabeth Von Arnim, a "wise and reflective" novel about a group of Englishwomen on a life changing visit to Italy, which Aragoni says "made me laugh out loud;" Little Man, What Now? (1933 list) by Hans Fallada, the story of a poverty-stricken young couple in pre-Nazi Germany, which she calls "inspirational and terrifying;" and The Sand Pebbles (1963 list) by Richard McKenna, a tightly-plotted historical adventure about U.S.sailors caught up in the Chinese revolution of 1926, which Aragoni says offers insight into Chinese culture and "cleanly drawn, utterly believable, bewilderingly human" characters.
A 1963 bestseller and insightful
adventure story.
Aragoni says that two novels from 1900 that she will be reviewing soon --
Red Pottage
by Mary Cholmondeley and
Unleavened Bread
by Robert Grant -- are good reads that "deserve to be made into
Masterpiece Classics
" and that several novels by Louis Bromfield, especially
The Strange Case of Miss Annie Sprague
(1928 list),
The Rains Came
(1937 and 1938 lists), and
Mrs. Parkington
(1943 list) are well worth the present day reader's interest.

The demands of Great Penformances leaves Aragoni with little time for contemporary fiction. The only recent novel she has read is the mega-bestseller The Help (2009 and 2010 lists) by Kathryn Stockett. "I don't think [it] is likely to become a classic," Aragoni says.

Kathryn Stockett, meet Gene Stratton Porter.



The Committee Room. Time Spent with TCR is Never Wasted.