Some of the best comedy writing in the history of television was done for
The Mary Tyler Moore Show
. This classic American sitcom about a single woman in her thirties, the fictional Mary Richards, forging a life on her own as a Minneapolis television news producer, places at number six on the Writers Guild of America's list of 101 Best Written TV Series.
TV Guide
ranks
The Mary Tyler Moore Show
, which was a Saturday night fixture on CBS from 1970 to 1977, among the ten best TV series of all time.
In the recently published
Mary and Lou and Rhoda and Ted: And all the Brilliant Minds Who Made The Mary Tyler Moore Show a Classic
Jennifer Keishin Armstrong offers a fascinating and deeply researched account of how
The Mary Tyler Moore Show
was put together. The show's creators, James L. Brooks and Allan Burns, are at the center of events but Armstrong gives well-deserved attention to
MTMS
writers, especially Treva Silverman who wrote fifteen of the series' one-hundred sixty-eight episodes. The witty and insightful work of Silverman and other young women writers gave this series about a young woman an authenticity that was essential to its success.
Jennifer Keishin Armstrong
(photo/A. Jesse Jiryu Davis)
"Armstrong's history of
Mary Tyler Moore
is warm and funny and rife with juicy details about the show's production, but what it is, more than anything, is a group portrait of the talented, ambitious young women who maneuvered, wangled, and pleaded their way into writing for the show," writes
Saul Austerlitz of the Boston Globe
.
Todd VanDerWerff of AV Club
calls
Mary and Lou and Rhoda and Ted
"an engaging, highly entertaining read of a show that set out to simply be very good and ended up rewriting TV history."
Moore (front row center) with
original cast of MTMS, 1970.
Jennifer Keishin Armstrong
is a veteran journalist whose credits include a decade on the staff of the magazine
Entertainment Weekly
. Armstrong's childhood memories of enjoying
The Mary Tyler Moore Show
with her parents moved her to write about the beloved sitcom. Also, as a young woman starting out adult life in New York City, Armstrong watched
MTMS
reruns and was stunned to find how relevant the doings of Mary Richards and friends were to her own experience. "But that was just the beginning," Armstrong explained to
The Committee Room
. "I also noticed a lot of the comedic actresses and writers I was interviewing for
Entertainment Weekly
-- Tina Fey, Julia Louis-Dreyfus -- cited it as an inspiration, which made me think there was still quite a bit of resonance between
MTMS
and today's TV. The clincher was that once I looked into it a little, I found out that it was the first show to hire multiple female writers...it took some chutzpah to be a female comedy writer in the 1970s -- so I knew I wanted to tell their stories."
Moore with Van Dyke, TV Guide, 1961.
Mary Tyler Moore rose to fame in the early 1960s as perky young housewife Laura Petrie on
The Dick Van Dyke Show
, another classic series which is usually ranked just below
MTMS
on lists of all time television greats. Moore's gift for light comedy, chemistry with Van Dyke, and star quality, made the supporting role of Laura Petrie more significant than it might have been in the hands of another actress.
After the Van Dyke show ended in 1966 Moore played the lead in a disastrous musical version of Truman Capote's
Breakfast at Tiffany's
(with a script by Edward Albee, no less) that closed before officially opening on Broadway. On the big screen, Moore had a major role in the 1967 box office hit
Thoroughly Modern Millie
. Still, her film career went nowhere. A variety special reuniting her with Van Dyke brought a relieved Moore back to television. The success of the variety special --
Dick Van Dyke and the Other Woman
, airing in early 1969 -- landed Moore, working through her husband, the producer Grant Tinker, a contract for a situation comedy with CBS.
Moore with Grant Tinker, c. 1970.
Tinker created a production company and hired Brooks and Burns, two young but experienced television writers and producers, to devise a show for his wife. Brooks and Burns had worked together on
Room 222
, a thoughtful comedy tinged with drama about a big city public high school. Earlier Burns had written scripts for
He & She
, a highly regarded but short-lived sitcom starring the Mary Tyler Moore-like Paula Prentiss and her real life husband Richard Benjamin as a young professional couple in Manhattan coping with a host of eccentric neighbors and friends.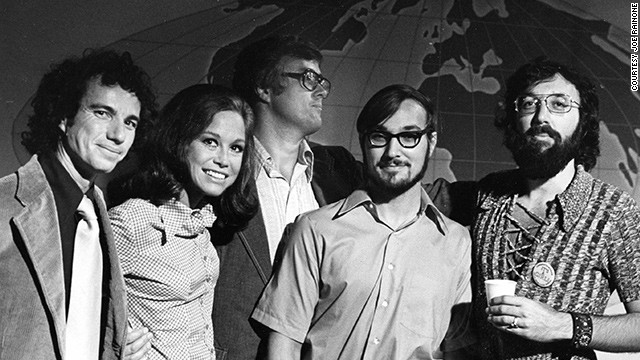 Moore with Allan Burns (center, looking away) and
James Brooks (right, with cup), 1971.
For the Moore show Brooks and Burns were given little guidance from Tinker except that Moore -- who had solid comic skills but did not do broad comedy in the style of TV funny ladies such as Lucille Ball and Carol Burnett -- must be supported by a strong ensemble cast. Brooks and Burns eventually came up with the idea of Moore as Mary Richards, a thirty year old woman starting a new life in Minneapolis after ending a long term romantic relationship. Humor would arise out of level-headed Mary's reactions to her wackier cast mates. Mary, though clearly the show's protagonist, would not always be the center of attention. "Allowing focus to routinely pull back from its marquee star would become the show's first major innovation, and it's hallmark," Armstrong writes in
Mary and Lou and Rhoda and Ted
.
Moore with later MTMS cast, c.1975
(photo/CBS).
Armstrong details how the actors cast as Mary's ensemble differed from what Brooks and Burns had envisioned for their characters but were hired nevertheless because they seemed to somehow click with Moore and the general tone of the developing series. Ted Knight as handsome but dimwitted anchorman Ted Baxter was older and more emotionally needy than what Brooks and Burns had in mind. Valerie Harper as wisecracking neighbor Rhoda Morgenstern was prettier than Rhoda was supposed to be. Edward Asner, a dramatic actor with little experience in comedy, brought a threatening edge to newsroom boss Lou Grant. As time passed, the writing staff developed the characters around the personalities of the actors. The star herself was not excluded from this blending of fact and fiction. The hardworking and conscientious Moore's intense perfectionism became a Mary Richards trait.
Treva Sliverman, one of MTMS's
top writers.
"Casting is so important -- if you look at any classic show, you see that the cast is everything! And it's either magical or it's not," Armstrong told
TCR
. "And Brooks and Burns would be the first to tell you that casting was all about Ethel Winant, the CBS executive who took an early interest in the show. When most of her colleagues still didn't quite get the script, she was championing it all the way, and because she was the head of casting at the network, expressed that support mainly by hand-picking the cast herself. She was great at her job."
Initially, CBS held low expectations for this Mary Tyler Moore sitcom and planned to schedule it for a Tuesday night time slot with an incompatible lead-in from the broadly comic
The Beverly Hillbillies.
CBS was the undisputed ratings king with a roster that included veteran stars Lucille Ball, Red Skelton, and Jackie Gleason, the long-running western
Gunsmoke
, and popular but innocuous comedies such as
My Three Sons
and
Family Affair
. Though CBS dominated overall viewership, the hottest shows of 1970 were NBC's racy comedy revue
Rowan and Martin's Laugh-In
and the new medical drama
Marcus Welby, M.D.
on ABC, the perennial also ran network that was beginning to find its stride. Finally recognizing the need to freshen its programming, CBS took a risk and placed the Mary Tyler Moore series in the higher profile Saturday lineup following another new sitcom -- the now forgotten
Arnie
which lasted two seasons -- and before the popular private eye drama
Mannix
.
Iconic image from MTMS opening, filmed on a very
cold day in Minneapolis, early 1970.
In its seven years on the air,
MTMS
never earned top ratings. Its strongest season was 1973-74 when it reached number nine on the Nielsen list as part of a powerhouse CBS Saturday night lineup with
All in the Family
,
M.A.S.H.
,
The Bob Newhart Show
, and
The Carol Burnett Show
.
As a cultural touchstone
MTMS
was overshadowed in its time by
All in the Family
and other Norman Lear produced shows that took a lapel-grabbing approach to topical humor. "The Lear shows definitely, by their very nature, generated louder buzz," Armstrong explained to
TCR
. "Brooks and Burns preferred quieter, character-driven stories, while Lear's shows were literally, as well as figuratively, loud. They featured overbearing characters yelling at each other about major hot-button issues of the day. I personally love the Lear shows...but I also find that I can only take so much of them. I get a little tired of the yelling, and the 'issues' approach dates them a bit.
The Mary Tyler Moore Show
holds up against the best sitcoms of today, and the only thing dated is the wardrobe which, when it comes to Mary and Rhoda, is awesome."
Mary Richards with Rhoda (Valerie Harper) and Phyllis
(Cloris Leachman), c. 1971.
When asked if she has a favorite
MTMS
episode, Armstrong says "It's hard for me to choose, but I usually settle on 'Rhoda the Beautiful.' I'm a Rhoda girl, and this one features Rhoda prominently (obviously). It also works in some very interesting, complicated female issues. It acknowledges Valerie [Harper]'s recent thrity-pound weight loss and has Rhoda continuing to diet while being urged into this beauty contest at the department store where she works. She spends the whole episode putting herself down, then ends up winning, but resisting telling the news to Mary and Phyllis [landlady character played by Cloris Leachman]. In the end she does, and they celebrate...but on top of that, I love the story behind the episode: Treva Silverman...wrote the episode and worked in some of her own body image issues; she watched Valerie accept the Emmy for it -- and thank her personally -- while she was at a weight-loss spa. Interestingly, Treva is beautiful and not overweight, not unlike Valerie/Rhoda herself."
Scene from first MTMS episode, broadcast
September 19, 1970.
Frequently allowing the supporting players to have center stage gave
MTMS
a wide range of plot possibilities that kept repetitiveness from setting in. In the fourth season, David Lloyd, a monologue writer for Johnny Carson and Dick Cavett, joined the writing staff and became a major creative force of the second half of the
MTMS
run, writing or co-writing more than thirty episodes. Armstrong told
TCR
that the series "really picks up steam as it approaches the end because it can do long-awaited things like Mary and Lou trying to go on a date. If you want to see a woman who's really matured in her comic talents, watch Mary Tyler Moore in this episode. Or even just the scene where she asks Lou out, and compare it with their first scene together in the pilot. Both scenes are brilliant in their own ways. But by the end, the two of them together are so clearly a comic team of equals by that point."
Scene from MTMS finale, broadcast
March 19, 1977.
The descendants of
MTMS
are everywhere in contemporary television. "I think its DNA is flung in several directions," Armstrong says. "The obvious [examples] are [those] which follow the whole single-gals-in-the-city mold. But I think you see it in the ways that almost every sitcom now toggles back and forth between comedy and relationship drama; you also see it in shows [that] focus on a band of quirky coworkers played by a strong ensemble."
Armstrong is currently working on a book about
Seinfeld
, the mega-hit sitcom of 1990s. Armstrong notes that
Seinfeld
, struggling in the ratings in its early days, kept a place on the NBC schedule by knocking out a show called
FM
that was created by Allan Burns and produced by the MTM company.
Armstrong is also the author of
Why? Because We Still Like You: an oral history of The Mickey Mouse Club
.
"Every book feels like a massive challenge," Armstrong says, adding that research poses the greatest difficulty. "It's hard to know when to stop, and when you do, it's hard to know what to do with all of it. I actually do love once I get to sit down and write. But the whole process feels like a mystery to me every single time, and then it always works itself out magically. Thank goodness."