In the recently published
Strippers, Showgirls, and Sharks: A Very Opinionated History of the Broadway Musicals That Did Not Win the Tony Award
author and theater critic Peter Filichia takes a vibrant and extremely well-informed look into why so many classic shows failed to win Broadway's biggest prize. The book's title refers to three especially admired non-winners --
Gypsy
(strippers),
Follies
(showgirls) and
West Side Story
(Sharks, a street gang).
The Tony Awards are given out by the
American Theatre Wing
, a service organization founded during World War II to oversee Broadway's contribution to the war effort. The Wing ran the famous Stage Door Canteen. After the war, the Wing remained in existence, shifting its mission to supporting the theater generally and bringing theater resources to communities. The Tony Awards -- named in honor of the Wing's co-founder, director and actress Antoinette Perry -- began in 1947. The first awards ceremony was a relatively modest affair in a hotel ballroom. Only a handful awards, many of them honorary, were presented.
Author Peter Filichia
Over the years more competitive categories were added along with the practice of selecting winners from a list of nominees. In 1949, the first best musical award went to
Kiss Me, Kate
, veteran composer Cole Porter's take on Shakespeare's
Taming of the Shrew
. By the mid-1950s, the Tony Awards ceremony had become a larger, more formal event broadcast live on local New York television.
Filichia, a theater blogger
and columnist who was for many years the theater critic for the
Newark Star-Ledger
, points out that it was nationwide television exposure, beginning in 1967, that truly boosted the Tony above other theater accolades. "Looking at print ads for Broadway in the 1950s and early 1960s prove that shows that had won prizes used to advertise first and foremost 'Pulitzer Prize Winner!' or 'New York Drama Critics Circle Winner!' much more often that 'Tony-winner!'" Filichia told
The Committee Room
. "Now no other theatrical award can touch the power of the Tony, because of that two-hour television infomercial that runs on a Sunday in June. And while ratings are a fraction of what they used to be (which, to be fair, is true of every network television show), the broadcast still reaches millions of people who say, 'Hmm, that show looks good' and reach for their telephones to call Telecharge."
Tween girls love Wicked but the
Tonys preferred Avenue Q in 2004.
Other popular shows that did not win the Tony for best musical are
Oliver!
,
Mame
,
Sweet Charity
,
Hair
,
Promises, Promises
,
Pippin
,
Grease
,
Chicago
,
Sunday in the Park with George
, and that mega-hit of the past decade,
Wicked
.
Filichia reminds us that the Tonys reflect how shows were seen in its time, not what we think of them years later. Lerner and Loewe's
Camelot
is a beloved classic but it opened on Broadway in 1960 under the shadow of Lerner and Loewe's earlier
My Fair Lady
, a critical and commercial smash that was still going strong at the box office nearly five years after it opened.
Camelot
wasn't even nominated for best musical. The snub was heightened by the Tony Award committee leaving a nomination slot empty. "Is there any fact that better proves what a tremendous disappointment
Camelot
was at the time?" Filachia writes in
Strippers, Showgirls, and Sharks
.
Some theater seasons present stronger competition than others. Filichia cites the example of
Big
, David Shire and Richard Maltby, Jr.'s musical version of the Tom Hanks movie.
Big
opened on Broadway in the spring of 1996. "The money was in place to produce it during the 1994-1995 season, but that was the same season in which
Sunset Boulevard
was opening," Filiachia told
TCR
. "The producers said, 'Oh, we'll never win the Tony against that Andrew Lloyd Webber juggernaut, so why bother even trying? Let's wait a season.' Well, yes,
Sunset Boulevard
indeed
did
win the Tony as Best Musical, but in a season where its only competition was
Smokey Joe's Café
. I will always maintain that if
Big
had opened that season, it would have won the Tony, because the time was right for a Lloyd Webber backlash and many would have said 'Oh,
Big
is so all-American, so fresh and breezy!' But the producers waited until the next season, when
Rent
opened – which had the emotion attached that its author [Jonathan Larson] had prematurely died as well as the incontrovertible fact that the Baby Boomers now rich enough to attend the theater wanted to hear rock music – and
Big
didn't have that."
Big, The Musical. Did it open a year
too late?
Back in the 1957-1958 season
West Side Story
and
The Music Man
competed for best musical along with three lesser offerings --
New Girl in Town
,
Jamaica
, and
Oh, Captain!
. The winner was
The Music Man
. Whether this tale of a conman inadvertently bringing joy to a dour little town in turn of the century Iowa was superior to
West Side Story
and its tragic gang rivalry in a contemporary Manhattan slum, is arguable but it was certainly more cheerful. Filichia notes that the best musical Tony usually goes to upbeat shows. He recalls gasps from the audience at the Tony Awards ceremony for the 1971-1972 season, when Stephen Sondheim's
Follies
, a gut-wrenching masterpiece of despairing middle aged couples attending a reunion of former showgirls, lost the best musical award to a lighthearted and now mostly forgotten musical version of Shakespeare's
Two Gentlemen of Verona
.
The spectacularly strong 1959-1960 season ended up in a tie with
The Sound of Music
and
Fiorello!
both getting the Tony for best musical. These two uplifting shows crowded out
Gypsy
, Jule Styne and Stephen Sondheim's lively but bleak story of Burlesque entertainer Gypsy Rose Lee and her ferocious stage mother, Mama Rose. Indeed,
Gypsy
, which has been revived on Broadway more than any other non-Tony winner, did not win any of the eight Tonys for which it was nominated, a record-setting collection of losses.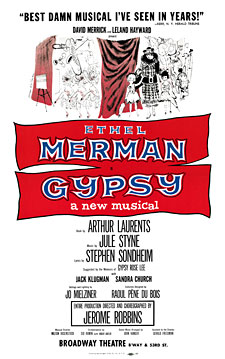 Gypsy, a favorite of Broadway
aficionados, was shut out by the Tonys in 1960
.
Filachia calls
Fiorello!
, Sheldon Harnick and Jerry Bock's tale of the rise of Fiorello LaGuardia, New York City's charismatic mayor in the 1930s and 1940s, "a real New York show in a time when New Yorkers routinely attended musicals. Now the mayor who's been out of office for almost seventy years is an unknown quantity with tourists who comprise most of the Broadway audience."
The Tonys also favor shows that are still running when awards night comes around. "Out of sight, out of mind," Filichia says. Only once in Tony history has the best musical award gone to a show that had already closed --
Hallelujah, Baby!
, a chronicle of African-American social progress, written by Betty Comden and Adolph Green with music by Jule Styne, that opened in the weak 1967-68 season.
Only shows that are presented in one of the three dozen or so theaters designated "Broadway" houses are eligible for the Tony. Broadway offerings in the 1980s were so paltry that Filichia thought that the Tonys would, if only out of desperation, begin to include more theaters. "There were so few new worthy shows that some categories had to be eliminated, I would have sworn that the Tonys were on their way to welcoming off-Broadway," Filichia told
TCR
.
Sunday in the Park with George won the Pulitzer Prize but not
the Best Musical Tony (photo/Martha Swope).
Broadway has rebounded since those dire times. Though Off-Broadway has gained enormously in prestige in recent decades, with major playwrights and star performers frequently working there, being showcased on the actual Great White Way still matters.
"Getting people to pay attention to Broadway is hard enough, what with diminishing [theater] coverage in diminishing newspapers," Filichia explained to TCR. "Many writers now only cover Broadway, because their editors know that most people who spend exorbitant sums on theater tickets want to feel they've had a 'night on the town.'"
Jersey Boys, a Tony Winner with "second-hand music."
(photo/Jersey Boys blog).
Filachia points to "the paucity of new scores" as a primary reason why he thinks the quality of Broadway musical fare has declined in the past decade.
"Second-hand music rules the day," Filichia told
TCR
. "In eight of the last ten Tony races, there has been at least one score that featured music that had first been heard elsewhere, be it on film or radio. Those who think things are getting better might notice that last season three of the four musicals featured music that had already been heard elsewhere. To be fair, however, the musical that won –
A Gentleman's Guide to Love & Murder
– was the one original score of the four nominees. So maybe originality still matters. Many decry the adaptations of movies as musical fodder but that doesn't bother me at all. As long as the show is good, I don't care what the source is – be it book, comic book or television series."
Annie, a show with "great heart,"
Best Musical Tony winner, 1977
Filichia finds that rock music, with its lack of emphasis on clear enunciation, does not lend itself well to the musical theater where songs convey plot.
"If enough lyrics aren't understood, each time it happens, it chips away a bit of the enjoyment; in the end, people think the show was 'just all right' when they might have been more enthusiastic if they could have better understood what the authors were saying. On the other hand, in musicals that use old rock songs – be they
Rock of Ages
,
Jersey Boys
,
Smokey Joe's Café
or
Mamma Mia!
– it doesn't matter as much because people come into the theater knowing those lyrics, anyway," Filachia told
TCR
.
Filachia's theatergoing experience began when he was a teenager in Boston in the early 1960s. What are his favorites among the countless musicals he has seen over the years?
"I'm going to mention
Annie
first for a specific reason," Filachia says. "I saw it try out at the Goodspeed Opera house in October, 1976, six months before it opened on Broadway, and while it wasn't one-hundred percent there yet, it won me over because of its great heart. Who knew that we would care so much for a comic strip character? But we did, because the creators made her human with the most basic need: finding your family. Most everyone liked
Annie
until it became a smash and a juggernaut. Then criticizing it for its success became hip and de rigueur. But when I love a show, I love it for life...I will always fondly remember how I felt that long-ago Sunday afternoon."
Sondheim's Merrily We Roll Along. This
Filichia favorite wasn't even nominated
for the best musical Tony Award.
Other Filachia favorites are
My Fair Lady
,
How to Succeed in Business Without Really Trying, A Funny Thing Happened on the Way to the Forum
,
Fiddler on the Roof
,
Cabaret
,
1776
,
Company
,
Follies
,
Two Gentlemen of Verona
,
A Little Night Music
,
Merrily We Roll Along
,
Les Miserables
,
Grand Hotel
,
City of Angels
,
Once on This Island,
Urinetown
and
Avenue Q
.
For the record, all but four of these --
Merrily We Roll Along
,
Grand Hotel
,
Once on This Island
, and
Urinetown
-- won the Tony for best musical.
As to what goes into making a hit musical, Filachia says "It has to appeal to as broad an audience as possible. Ideally, there should be something to appeal to every generation. The reason that
Bye Bye Birdie
[1961 best musical winner] is still getting done more than half-century after its Broadway opening is because it deals with adults, teens, and even makes room for a mother of an adult. Something for everybody – and somebody that everyone can recognize."