In the recently published
Watch Me: A Memoir
, actress and sometime director Anjelica Huston picks up where she left off in her first book,
A Story Lately Told: Coming of Age in Ireland, London and New York
(discussed in
TCR
in
April 2014
).
At the start of this second volume Huston is in her early twenties and has just arrived in Los Angeles. She has been a successful fashion model in Europe and New York but is eager to commence a new life in sunny SoCal after finally extrapolating herself from a difficult relationship with a mentally ill photographer old enough to be her father.
Anjelica is a new girl in town but, being the daughter of legendary film director and bon vivant John Huston, she is an extremely well-connected one. It isn't long before she meets rising star Jack Nicholson and they begin a lengthy reign as Hollywood's coolest couple. Woody Allen immortalized their partnership in
Annie Hall
in which Annie's acceptance by the in-crowd is represented by her being invited to a party at Jack and Anjelica's.
Jack and Anjelica are an unequal pair. Nicholson essentially replaces John Huston as the charismatic, energetic and famous man dominating over Anjelica's life. As Jack ascends to superstardom in
Chinatown
,
One Flew Over the Cuckoo's Nest
, and
The Shining
, Anjelica hangs around and smokes -- sometimes on Jack's movie locations, sometimes back home at Jack's house on Mulholland, sometimes at the homes of friends in Paris, London, New York, and Aspen.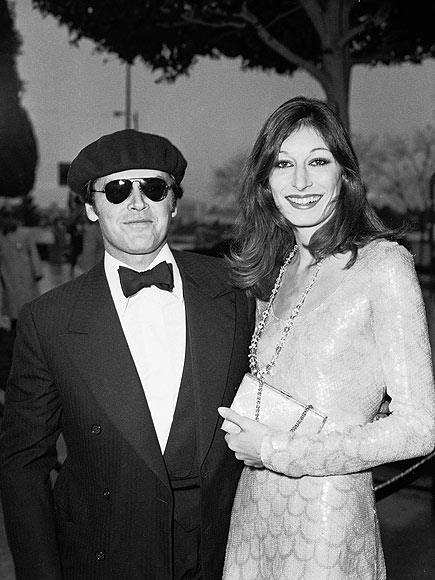 Jack and Anjelica back in the day, 1976,
(photo/Fotos International/Getty)
A serious car accident leaves Anjelica with a badly broken nose (that has to be rebuilt with plastic surgery) and puts her, as she approaches age thirty, on a path to finding an independent identity. "After I broke my nose, something changed in me -- I made up my mind to take greater advantage of my life," she writes. She takes acting lessons with Method acting coach Peggy Feury and lands some small roles, including bits in
This is Spinal Tap
and the TV sitcom
Laverne and Shirley
. Within a few short years she wins a best supporting actress Oscar for a scene stealing turn in
Prizzi's Honor
, a black comedy starring Nicholson and directed by the elderly John Huston who was slowing dying from emphysema. Anjelica points out that producer John Foreman, who she considers a mentor of sorts, hired her first. Her illustrious dad and big-name boyfriend signed on only after she was already involved.
The Oscar earns Anjelica increased respect as an actress and raises her profile but did not send her to the top rank of Hollywood stars. Still, she works regularly in major productions and has carved out a career that is her own. She is often part of ensemble casts as in Francis Ford Coppola's
Gardens of Stone
, the television mini-series
Lonesome Dove
, and the Wes Anderson films --
The Royal Tenenbaums
,
The Life Aquatic with Steve Zissou
and
The Darjeeling Limited
. Occasionally there are lead roles. Anjelica calls the part of Lilly Dillon, a cold-hearted conwoman in
The Grifters
(1990) "arguably the best role of my life" and admits that director Stephen Frears contacted her only after the part had been turned down by Melanie Griffith (who was a big star back in the 1980s, it should be remembered). About another plum role -- Morticia in Barry Sonnenfeld's
The Addams Family
and
Addams Family Values
--
Anjelica wryly wonders why the producers wanted her and not Cher.
Anjelica in Prizzi's Honor, 1985.
As Anjelica moves toward middle age her independence grows stronger. Her father dies. Her relationship with Nicholson, which had been withering away for some time, in part due to Jack's increasingly flagrant womanizing, finally ends when he fathers a child with young actress Rebecca Broussard. "Although in many ways in was not logical, the sense of betrayal was overwhelming; I felt abandoned and dejected and humiliated...I was very lonely at this period of my life. But I realized that it had been Jack's life, for the most part; I had existed in in it. That was over now," Anjelica writes. She coolly adds that Nicholson and Broussard's second child, a boy, is "named Raymond. Which is odd, since we'd once owned a dog by that name." Though their almost two decade long romance ended badly, Anjelica makes it clear that she remains fond of Nicholson who she calls "a fair and true friend."
Anjelica with unfriendly co-star Bill Murray in
The Life Aquatic with Steve Zissou, 2004.
Thrown into the brisk narrative of
Watch Me
are Anjelica's impressions of some of her famous co-workers. Bill Murray is cordial during the making of
The Royal Tenenbaums
but is inexplicably frosty a few years later on
The Life Aquatic with Steve Zissou
and doesn't ask her to a dinner he hosts for the cast. Woody Allen, who hires Anjelica for
Crimes and Misdemeanor
s without ever having met her, rebuffs her suggestion that they get together for a get-acquainted drink before starting work on the movie. "Was it boredom or anxiety?" Anjelica wonders about Allen's anti-social reaction. Visiting Jack on the set of
Ironweed,
Anjelica finds Nicholson in his trailer with his co-star Meryl Streep. "They were speaking in the lingo of their characters, alcoholic lovers. There was no doubt they were very comfortable in each other's presence, because neither one broke character to greet me," Anjelica recalls. In the relatively long discussion of
Prizzi's Honor
, Anjelica is conspicuously terse in regard to Kathleen Turner, the film's leading lady, who is mentioned only in passing.
Anjelica with husband, the sculptor
Robert Graham, in 2000.
In 1992, a couple of years after ending things with Jack, Anjelica marries for the first and so far only time in her life. The groom is Mexican-born sculptor Robert Graham. Like Nicholson and John Huston, Graham is an older man with a strong personality and a successful career that he puts above all else. Unlike Jack and John, however, Graham is something of a brooding loner. Anjelica and Graham build a fortress-like house for themselves in Venice Beach. The marriage has its difficulties (he goes for long periods without speaking; she has an affair while making
Ever After
in the South of France) but endures until Graham's painful death from a rare illness in 2008.
Anjelica's life as presented in
Watch Me
lacks the usual components of a Hollywood memoir. No difficult climb out of obscurity. She is a Huston, after all. No divorces. Though she says she sometimes pressed Nicholson to legalize their relationship, they both seem to have been too self-aware to ever have thought that things would really be till death do us part. Drug use and drinking are alluded to but don't turn problematic. Anjelica even manages to permanently overcome a forty-year long heavy smoking habit with a day-long seminar at a hotel conference room in 2006. "I haven't had a cigarette since, and have had no desire to smoke," she tells us. Whether this is true or not, it's not dramatic.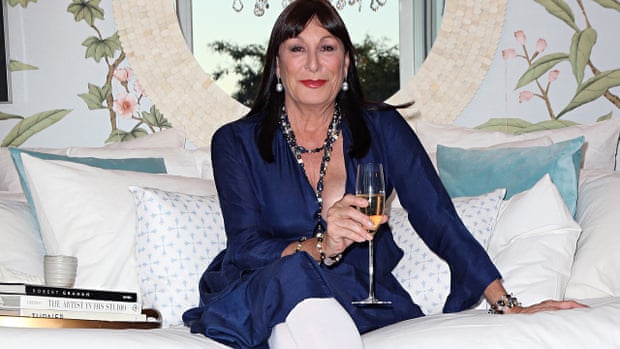 Anjelica in 2014 (photo/David Livingston/Getty Images)
Watch Me
has many moments of interest but lacks the charm of Anjelica's briefer and more engaging earlier memoir,
A Story Lately Told
, which recounts her strange, isolated upbringing on a rural Irish estate, then her busy adolescence in Swinging Sixties London. The first book, though written with the same cool detachment of
Watch Me
, offers up a child's eye view of the larger than life John Huston's extraordinary home life replete with children legitimate and not, foxhunts, functional alcoholism, unpaid bills, famous authors including John Steinbeck and Carson McCullers coming to visit, and ex-wives turning up. There is also the tragedy of Anjelica's mother's death in a car accident.