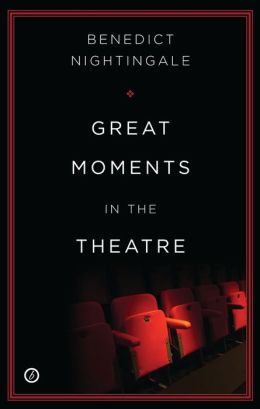 "Drama critics come in all kinds, besides, of course, good and bad. There are those who regurgitate the plot and those who gallop off on hobby-horses. There are those with sound ideas but no style; those with impressive styles but no taste...Then there are the really good ones, like Britain's
Benedict Nightingale
, whose song should be heard far beyond Berkeley Square,"
writes John Simon in The Weekly Standard
.
Benedict Nightingale reviewed plays for the
Times
(London) for twenty years before retiring in 2010. Prior to joining the
Times
he spent nearly as long a period as theater critic for
The New Statesman
. In between these lengthy stints he came stateside to write for the
New York Times
. Nightingale began his career as a drama critic while still a teenager with a review of a local production in a suburban London newspaper and earned his stripes as a professional critic covering regional theater in the North of England for
The Guardian
.
Nightingale has used his vast theatergoing experience and knowledge of theater history to write
Great Moments in the Theatre
(recently published by Oberon Books). Behind the prosaic title is a lively look at more than one-hundred significant theater productions through the centuries. Understanding that here today, gone forever tomorrow temporariness is part of the magic of theater but also its biggest weakness, Nightingale doesn't simply talk about these great moments; he places the reader in the audience.
Benedict Nightingale
(photo/Tom Stockill for The Times)
Jason Zinoman of the New York Times
praises
Great Moments in the Theatre
as "more a theater lover's journal than a history lesson...it's also a convincing argument for the importance of a long life in theater criticism...debate about plays can often be myopic and lacking the context necessary for real passion. I find it delightful, even inspiring, to read Mr. Nightingale discussing Shakespeare revivals with the argumentativeness of sports talk radio."
Many legendary stage performances (Olivier's Henry V and Hamlet, Brando's Stanley Kowalski, Rex Harrison's Henry Higgins, to name just a few) have made their way to film versions and in some cases entire theatrical productions have been recorded. Nightingale believes, however, that nothing matches actually being there in person and the potential for "connection between actors and audience" gives live theater "a potency and therefore an importance denied to any electronic medium."
A great actress's greatest performance? Nightingale
thinks so. Helen Mirren in Turgenev's A Month in the Country,
London, 1994 (photo/Donald Cooper)
Not limiting himself to the countless productions he has actually seen, Nightingale begins with the premiere of
The Oresteia
in Athens in 458 B.C. and reminds us that this original production was "quite a spectacle" with masks, paintings, trumpets, and terrifying snake-haired Furies. He then moves up the centuries to the comparatively recent
Hamlet
at London's Globe Theatre in 1601. In Richard Burbage, the first Hamlet, Nightingale sees an "intelligent, deft, measured...and surprisingly modern actor" accomplishing the daunting task of portraying an introspective character "on a stage thrust out amid the groundlings, sharing daylight with spectators perched in half-circles high above." Under these rowdy conditions, Burbage offered not "just anguished introspection" but an "intense debate with those watching him: should I be or not be?...while staying firmly in character."
An Inspector Calls by J.B. Priestley,
National Theatre revival, 1992.
"An antiquated thriller had become a modern
morality play," says Nightingale.
Though Nightingale starts with the long view, the majority of the productions discussed are from the British and American theater in his lifetime. Nightingale calls the post-World War II decades -- the years that witnessed the rise of Tennessee Williams and Arthur Miller, John Osborne and Joe Orton, Tom Stoppard and David Mamet, the National Theatre, the Royal Court, and the Royal Shakespeare Company "the most exciting period in our theatrical history since the Jacobean era."
As to what constitutes theatrical greatness Nightingale says that great theater "can move you, exhilarate you, delight you, deepen you, transport you and your imagination to other worlds, tell you fascinating things about your and others' society, culture, history...It can be excellent or unforgettably bad or strikingly in between. It can doubtless be cathartic, whatever that means, and very occasionally it can be magical, whatever
that
means."
An example of greatness without excellence is John Osborne's seminal
Look Back in Anger
which revolutionized British drama in the 1950s with the bitter rantings of its working class protagonist Jimmy Porter. Nightingale acknowledges that
Anger
is historically important but at the same time is "a formal, rather old-fashioned" work with a plot involving the "hoary subject" of martial infidelity.
Rosencrantz and Guildenstern Are Dead
, "the play that made Tom Stoppard's name" in the 1960s and one that is widely studied in British schools, is "a philosophically spurious, cute and whimsical rip-off" of Samuel Beckett's
Waiting for Godot
and inferior to Stoppard's "later, more exhilarating works, notably
Jumpers
and
Arcadia
."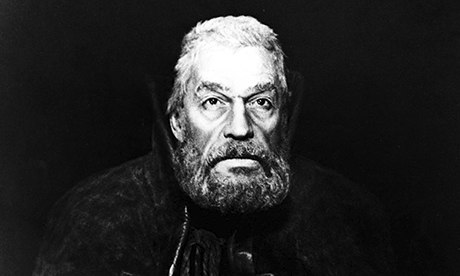 "Greatest actor" Paul Scofield as a "revolutionary"
King Lear, 1962 (photo/Ronald Grant Archive).
Famous names and top drawer venues are plentiful among the
Great Moments
but not essential for a production to create magic. Nightingale recalls one of his most thrilling experiences as a theatergoer was delivered by a touring company's staging of Racine's
Phedre
at a North of England theater that was "actually a shabby old cinema with disintegrating seats and somewhere at the back of the quarter-filled stalls, a urinal which every few minutes flushed so loudly that an ugly whooshing noise carried through the audience." Despite surroundings that "couldn't have been more unfriendly to classical drama" what passed between the stage and spectators was "strange and almost unworldly."
Mark Rylance in Jerusalem by Jez
Butterworth, London, 2009.
The most recent production discussed is
Jerusalem
by Jez Butterworth, presented at London's Royal Court Theatre in 2009, and starring Mark Rylance as a swaggering, opinionated, but ineffectual libertine living in a filthy "American-style trailer" and scratching out a living by selling his blood. "Rylance brilliantly embodied what Butterworth's marvelous play made clear: the remnants of an old, ribald, pagan England are sinking under the weight of twentieth-century 'progress,' and there's nothing we can do about it," Nightingale writes.
Nightingale calls Paul Scofield, the dark and burly British actor remembered mainly for his Oscar-winning turn as Sir Thomas More in
A Man for All Seasons
, "the greatest actor of my lifetime...beside him John Gielgud lacked physical energy and a sense of danger, Laurence Olivier was wanting of soul and Ralph Richardson hadn't the versatility." Scofield's interpretation of King Lear, at the Royal Shakespeare Company in 1962, was "revolutionary" offering a "grizzled, savage, utterly unsentimental" Lear who "raged and bullied...only to end up discovering the humanity he'd always despised."
Original cast album from Lionel Bart's Twang,
a musical great in its awfulness, 1966.
A handful of musicals earn a place in Nightingale's great moments and one of them --
Twang!
, a disastrous, short-lived take on the Robin Hood legend by
Oliver!
composer Lionel Bart -- is included because it was so "memorably awful." Nightingale praises Schonburg and Boublil's
Les Miserables
as a "large-hearted epic not often found in our cynical, stingy times" that "has had me battling tears on each of the five occasions I've seen it." He counts among his personal greatest moment in the theater attending
Les Mis
' premiere at London's Barbican Theatre in 1985 and finding himself along with the rest of the audience "linked in some mysterious secular communion." He was among the few critics to give the show a favorable review. Nightingale says -- "Thank God I hadn't read the original book, or maybe I too would have been supercilious and sneery at the expense of a musical the audience itself clearly loved."
Nightingale so loves Les Mis he co-wrote a
book about it. -- Les Miserables: From Stage
to Screen.
Nightingale's admiration for
Les Miserables
led him to co-write with Martyn Palmer
Les Miserables: From Page to Screen
, a photo-filled book which covers the history of this international crowdpleaser from its inception to its 2012 film version.
Other books by Nightingale include
The Future of the Theatre: Predictions
, (1999),
Fifth Row Center: A Critics Year On and Off Broadway
(1986), and
Fifty Modern British Plays
(1983).
The Committee Room. Time Spent with TCR is Never Wasted.