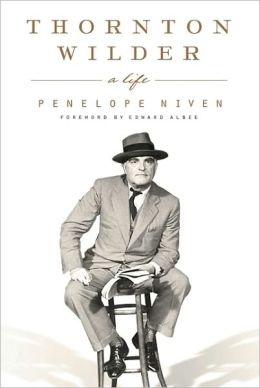 Thornton Wilder: A Life
by Penelope Niven
The Committee Room
notes with sadness the death of
Penelope Niven
, biographer of playwright and novelist Thornton Wilder (
Thornton Wilder: A Life
). Niven died unexpectedly on August 28, 2014. At the time of her death, Niven was working on further Wilder projects, including a book titled
Wilder on Writing
.
In early 2013, Niven generously gave an engaging and in-depth interview to
TCR
in regard to the recently published
Thornton Wilder: A Life
.
Kirkus Reviews
called
Thornton Wilder: A Life
"satisfying and insightful...a perceptive, indispensable portrait of a productive and restlessly intellectual life" and the
Boston Globe
praised it as "a sweeping look into the life of a man who left an indelible mark on the American theater...a vital work of scholarship."
Co-written by
Penelope Niven
Niven beautifully sums up Wilder's writings as a search for answers to the fundamental questions -- "How do you live? How do you bear the unbearable? How do you handle the various dimensions of love, of faith, of the human condition? How do universal elements forge every unique, individual life?"
Among Niven's other theater related work is
Voices and Silences
, which she co-authored with the actor James Earl Jones. The book offers both an exploration of Jones' personal history and a text on acting.
To read
TCR
's interview with Penelope Niven
click here