What were the best English language novels written in the second half of the twentieth century? Writer
Colm Toibin
and editor/publisher
Carmen Callil
tackle this question in
The Modern Library: A Brief Guide to the 200 Best Novels in English Since 1950
.
"Enthusiasm is the driving force of this book. Its purpose is to celebrate the writers we have loved best, and to proselytize on behalf of their novels," Toibin and Callil write in the introduction.
Toibin and Callil delineate three types of novels written since 1950 -- "massively ambitious and complex" works such as William Gaddis'
The Recognitions
(1955) and Angela Carter's
Wise Children
(1991) that "take their bearings" from the early twentieth century Modernist giants James Joyce and Virginia Woolf and leave characters, dialogue, and plot "open to question;" traditional style novels, such as Anita Brookner's
Friends and Family
(1985) and Patrick Hamilton's
The West Pier
(1951), that follow a "system in which things are slowly revealed and objects in the landscape are described in some detail;" and a modernist/traditional combination, the most common style in the later twentieth century, that takes in lessons from Joyce and Woolf about language, form, voice, and tone without abandoning completely traditional narrative methods.
An essential modern text?
"Thus the [Modernist] revolution did not cause the destruction of the novel in which character and voice and plot play non-revolutionary roles," Toibin and Callil write "instead, it refined the idea of character and voice and plot, it made novelists more self-conscious, more careful, and the language of the novel more precise, snappier and richer."
Toibin and Callil's list includes expected choices such as
The Catcher in the Rye
(1951),
To Kill a Mockingbird
(1960), and
Invisible Man
(1952) but also offers many surprises. Of Alan Sillitoe's
Saturday Night and Sunday Morning
(1958), a gritty story of 1950s English working class life best known for the film version that brought stardom to actor Albert Finney, they write "If this novel were written in French, it is possible that its protagonist, Arthur Seaton, would be an existentialist hero and the book an essential modern text." John O'Hara's
From the Terrace
(1958), often dismissed as a soap operatic potboiler, is branded a "big, brilliant, old fashioned novel" that "deserves to be widely read and known."
Black Robe
(1985), Brian Moore's dark tale of Jesuits in seventeenth century Canada, is "powerful and emotional, and the violence in the book is shocking, more graphic than anything in Cormac McCarthy."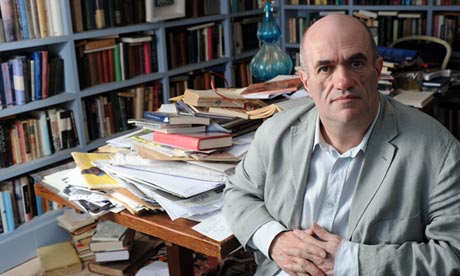 Colm Toibin (photo by Kim Haughton)
Titles are listed in order of publication. The strongest year is 1991 with ten titles from that year making the list (the
Regeneration
trilogy, begun in 1991, by Pat Barker;
Wise Children
by Angela Carter;
A Strange and Sublime Address
by Amit Chaudhuri;
American Psycho
by Bret Easton Ellis;
The Redundancy of Courage
by Timothy Mo;
Mating
by Norman Rush;
Downriver
by Iain Sinclair;
A Thousand Acres
by Jane Smiley;
Reading Turgenev
by William Trevor; and
Cloudstreet
by Tim Winton).
"Massively ambitious and complex" in
the style of Joyce and Woolf
The list of two hundred was almost entirely put together by Toibin and Callil alone and there are types of novels that neither of them like. "As we chose and wrote, and agreed and disagreed, we came across novels, often famous novels, which we did not appreciate: Tolkien's
Lord of the Rings
for instance, science fiction and fantasy novels and most historical novels. We read and rejected them knowing that even two omnivorous readers cannot represent every taste. Indignation, as well as pleasure, will, we hope, be among the first reactions to this book," Toibin and Callil write.
Other big names Toibin and Callil shut out are Truman Capote, Joyce Carol Oates, Kurt Vonnegut, Wallace Stegner, Ken Kesey, Herman Wouk, Ray Bradbury, William Kennedy, James Jones, Irwin Shaw, and Barry Unsworth.
"A masterpiece of horror
and black humor."
Toibin and Callil like mysteries, thrillers, horror stories, and have no bias against bestsellers. Their selections include works by Agatha Christie (
A Murder is Announced
, 1950), Daphne du Maurier (
My Cousin Rachel
, 1951), John LeCarre (
The Spy Who Came in from the Cold
, 1963), Carl Hiaasen (
Double Whammy
, 1987), and P.D. James (
Original Sin
, 1994). Stephen King's
Misery
(1987) is a "masterpiece of horror and black humor" and Anne Rice's
Interview with the Vampire
(1976) is classed with Mary Shelley's
Frankenstein
and Bram Stoker's
Dracula
as "one of the great tales of the supernatural, a mythic exposition of the meaning of good and evil."
In two cases Toibin and Callil found it impossible to stick to their rule of including only one book by a particular author. "V.S. Naipaul and Saul Bellow have two entries, not because we consider them greater than any of the other novelists we have chosen, but because one of us considered
A Bend in the River
and
Herzog
to be the masterworks of Naipaul and Bellow, while the other disliked
Herzog
but argued passionately for Bellow's
The Adventures of Augie March
and could not feel
A Bend in the River
to be the equal of
A House for Mr. Biswas
," Toibin and Callil explain in the introduction.
Carmen Callil
(photo by Monica Curtin)
Toibin and Callil call Graham Greene "certainly the finest English writer of the second half of the century." Selecting a single Greene novel posed a problem but they ultimately agreed upon the "perfect and poignant"
The Human Factor
(1978) as Greene's best post-1950 work.
The Modern Library
's original 1999 edition actually included only one hundred ninety-four, not two-hundred, titles. The second edition, published in 2011, fills the six empty slots. One is taken by William Maxwell's
So Long, See You Tomorrow
(1980), a title Toibin and Callil feel they unjustly overlooked when putting together the original list. The five other additions were suggested by readers of the 1999 edition. "Our readers, all over the world, sent us thousands of entries," Toibin and Callil write. The four most popular reader suggestions --
Birdsong
by Sebastian Faulks,
Cold Mountain
by Charles Frazier,
The Magus
by John Fowles, and
A Suitable Boy
by Vikram Seth -- were added to the new edition. Also added was the most popular reader suggestion that is not a book by a British or American writer --
The Children's Bach
(1984) by Australian novelist Helen Garner.
The finest post-1950 author's
best post-1950 novel?
Toibin, the author of several highly regarded novels including
The Master
,
Brooklyn
, and most recently
The Testament of Mary
, is Irish. Callil, founder of the Virago Press and former managing director of Chatto and Windus publishers, is originally from Australia. They note that since 1950 English language fiction has shifted away from England. They write -- "There are countries where English is seen as both a plague inflicted on the population and at the same time as a language which they have come to possess more sonorously than the English themselves" and any serious examination of the novel in English must take in works from "India, Pakistan, New Zealand, England, Ireland, Scotland, the USA, Australia, Canada, Africa, the Caribbean, Hong Kong, and more."
For a list of all the selected titles
click here
.