Vivien Leigh: An Intimate Portrait by Kendra Bean.
This autumn marks the seventy-fifth anniversary of the release of what is by most estimates the most popular movie of all time -- producer David O. Selznick's lavish screen version of Margaret Mitchell's bestselling Civil War saga
Gone with the Wind
.
At the center of this immortal film is the performance of Vivien Leigh as the scheming Southern belle Scarlett O'Hara. While it may be possible to imagine another actress as Scarlett, it is difficult to see
Gone with the Wind
achieving such tremendous success if Leigh had not been cast. Leigh's remarkable ability to convey steely determination underscored with trembling fragility is an essential element. Even in the capable hands of Katharine Hepburn or Bette Davis, both of whom were among the many actresses who wanted to play Scarlett, Selznick's grandiose production may have come down to us as an overblown, dated melodrama.
As
Kendra Bean
shows in her excellent new book
Vivien Leigh: An Intimate Portrait
(Running Press) as brilliant as Leigh was as Scarlett, there was far more to this English beauty than that one role. "Vivien is like the gift that keeps on giving. There are so many angles to explore and new information is always coming out of the woodwork," Bean told
The Committee Room
.
There have been major biographies of Leigh by
Anne Edwards
(1977),
Alexander Walker
(1987), and
Hugo Vickers
(1989). Bean, a young American film historian based in London, represents a new generation of film scholars. She told
TCR
that she was drawn to write about Leigh, who died from a badly treated case of tuberculosis at age fifty-three in 1967, "because she's interesting, often misunderstood, and nothing I'd read about her before seemed to satisfy my curiosity about her life or her work."
Bean is the first major Leigh biographer to have access to the papers of the actor Laurence Olivier, acquired by the British Library in 2000. Leigh and Olivier were married for twenty years before divorcing in 1960.
The recently wed Oliviers as Lord Nelson and
Emma Hamilton in That Hamilton Woman, 1941.
Bean's biography is a coffee-table style book built around a spectacular collection of photographs and other visual material. The title
Intimate Portrait
is, Bean says, "a sort of a play on words. What I set out to do from the very beginning was an illustrated biography that was largely photo-based, while at the same time offering a more in-depth narrative than one would typically get with a book of this format...Doing a photography book is tricky because writing the text is only part of the battle. Photos can present quite a challenge that I don't think many non-authors are aware of."
Leigh as Cleopatra in the screen version of
Shaw's Caesar and Cleopatra, 1945.
Leigh was a rising young star in Britain but little known in America when she was selected by Selznick (at the last minute; scenes of
Gone with the Wind
were already being shot) to play Scarlett O'Hara. After picking up a well-deserved Oscar for her work in
Gone with the Wind
, Leigh essentially walked away from her newly-minted Hollywood stardom. She made a pair of high-profile films --
Waterloo Bridge
(1940), a romantic tear-jerker set during World War I, with Robert Taylor, and
That Hamilton Woman
(1941), playing a magnificently costumed Lady Emma Hamilton opposite her new husband Olivier (Leigh and Oliver wed in 1940 after divorcing their original spouses) as Lord Nelson -- then returned to England and focused her attention on the stage.
The Oliviers in Shakespeare's
Titus Andronicus, 1957.
"Vivien was never really concerned with being a film star," Bean explained to
TCR
. "It's important to remember that when she began her career, attitudes toward film and theater were still largely polarized, with theater considered the higher art form. Vivien was of a generation of British actors who believed that an actor's real place was on the stage. Films were a directors' medium and a way to make money. Laurence Olivier was one of the big proponents of this school of thought. He was quite a snob about films until he became a director himself during the war. But Vivien also subscribed to this ideology from the beginning."
Bean points to Ingrid Bergman, Joan Fontaine, and Jennifer Jones, all under contract to Selznick, as the main career beneficiaries of Leigh's departure from the Hollywood scene.
Leigh and Olivier were "the golden couple of British theater in the 1940s and 1950s," says Bean. Often partnered with her husband as co-star or director, Leigh tackled classic roles from Shakespeare, Sheridan, and Shaw and appeared in new works by top playwrights of the time, including Thornton Wilder, Noel Coward, and Terrence Rattigan. She kept her hand in the movie world by starring in the British films
Caesar and Cleopatra
(1945) and
Anna Karenina
(1948).
Leigh (left) with Claire Bloom in Giraudoux's
Duel of Angels, 1958.
(photo/Victoria & Albert Museum)
In 1949, Leigh originated the role of Blanche DuBois in the London production of Tennessee Williams'
A Streetcar Named Desire
, directed by Olivier, and later returned to Hollywood to co-star with Marlon Brando in the 1951 film version directed by Elia Kazan. The
Streetcar
movie earned Leigh a second Oscar for best actress, an astonishing accomplishment for a performer who appeared in only nineteen films in her entire career.
Nearly fifty years after Leigh's death there are not many people left who knew the actress well. "All of her close friends are long dead, sadly," says Bean. "But there are still a few people who acted with her or knew her briefly."
Bean corresponded with actress Olivia DeHavilland
, a top Hollywood star of the 1940s, who played the supporting role of Melanie Wilkes, a docile counterpoint to Leigh's tempestuous Scarlett, in
Gone with the Wind
. DeHavilland, who is nearly a hundred years old, is one of the few people involved with the making of the classic film who are still around.
Film historian and biographer
Kendra Bean.
Actress Claire Bloom co-starred with Leigh in Jean Giraudoux's drama
Duel of Angels
in both London and New York in the late 1950s. "Claire was one of the first people I interviewed for the book," Bean told
TCR
. "After our initial phone conversation, she told me to call her if I had any more questions. When the book was nearly finished a year later, I rang her up and asked if she'd write the foreword, and luckily she agreed. She came to my book launch, too, which was a treat!"
Leigh's only child, a daughter from her first marriage (to London barrister Leigh Holman), is now in her early eighties. Bean says that Leigh's daughter "gave me permission to quote from some of Vivien's letters and was aware of the project from early on, but that was the extent of the connection."
Leigh with a youthful Warren Beatty in her next
to last film The Roman Spring of Mrs Stone, 1961.
In the early 1950s, Leigh was diagnosed with bipolar disorder, then called manic depression. Leigh's erratic behavior harmed her professional reputation but her enduring bankability as a star along with her eagerness to work kept employment offers coming in. Mental health issues were a major factor in the break up of her marriage to Olivier.
"If she hadn't struggled with mental illness, something else may have gotten in the way — or not. It's impossible to answer," says Bean. "I do know that leaving was a difficult decision for Olivier to make. It wasn't like he just woke up one day and decided he was done with things; it was a drawn out and painful process."
Tovarich, original Broadway cast album, 1963.
Leigh was often dismissed as an attractive and ambitious but limited performer who was not in the same league talent-wise as Olivier, Ralph Richardson, Peggy Ashcroft and other great British actors of the twentieth century.
"Some critics argued that her stage career lacked depth, but there's certainly no denying the breadth of her accomplishments," says Bean.
In 1963, Leigh took on the enormous challenge of starring in a Broadway musical. Based on a play by Robert E. Sherwood,
Tovarich
offered Leigh and co-star Jean-Pierre Aumont as exiled Russian aristocrats working as a maid and butler for an American family in Paris.
Tovarich
ran for several months but folded soon after Leigh withdrew from the production due to a flare up of her mental problems.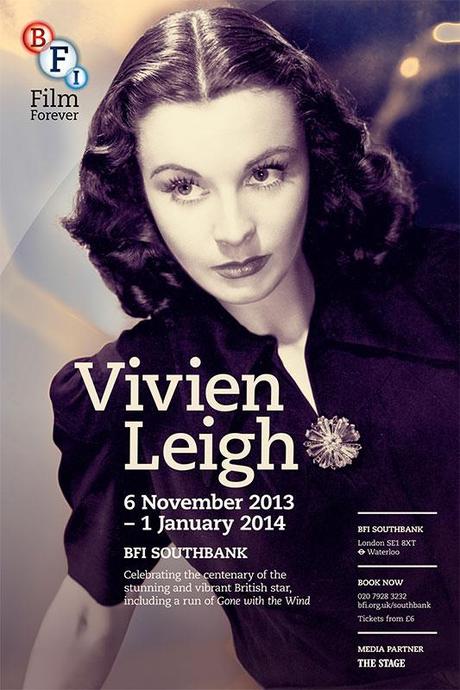 Poster from the British Film Institute's Vivien
Leigh retrospective, 2013.
In the fall of 2013, to mark the centenary of Leigh's birth, the British Film Institute held a
retrospective of fourteen of Leigh's nineteen films
. The National Portrait Gallery (London) offered the exhibit "
Vivien Leigh: A Centenary Celebration
. The exhibit, which Bean co-curated, showcased vintage photographs and other images of the actress.
Considering all this recent hoopla, it is surprising that greatest challenge Bean faced when initially putting together
Vivien Leigh: An Intimate Biography
a few years ago was finding a publisher. "A lot of people thought that Vivien was no longer relevant enough to sell, or that they couldn't make the coffee table book format work for their publishing house," says Bean, adding that after getting the go ahead from Running Press the biggest problem was "making sure everything was turned in on time (it was, I'm happy to say)."
Bean also runs a website
dedicated to Leigh, Olivier, and classic cinema.